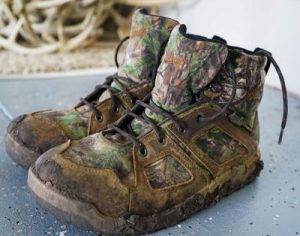 For me, a good boot is invaluable when it comes to spending a lot of time off the beaten trail. I was looking for a pair of boots that would hold up to my expectations through shed hunting season, turkey season, and into my summer whitetail work. Danner responded by sending me the Danner Steadfast 6" Realtree Xtra boots.
When I started wearing these boots, morning temperatures were in the 30's and daytime highs would hit anywhere from 45-60F. With a pair of wool socks when the temperatures were low, these boots kept my feet dry and warm. When the temperatures rose throughout the day, I would stay in my comfort range by simply removing the wool socks. In the early spring, the melting snow makes for some sloppy conditions and a lot of water/mud walking, I can say these boots held up through all of it. Right out of the box, like I do with all my hiking boots, I did hit them with 2 coats of a waterproofing aerosol for extra protection.
I put these boots to the test from the rolling draws and ditches of Iowa, to the bluffs of western Wisconsin, to the Cedar Breaks of South Dakota. I can honestly say that there was no break-in time required and long days ended more so with sore legs than they did with sore feet.
The pros of the Danner Steadfast 6 inch boots
These boots are a featherweight, weighing in at 24 oz. each makes them more like wearing a comfortable tennis shoe rather than a bulky hiking boot. The outsole on these boots is no joke, solid traction is crucial for on the move, and Danner nailed it with this release.
The cons of the Danner Steadfast 6 inch boots
Don't really have anything BAD to say about these boots, the following is more of a personal preference that might not mean much to anyone else. The broader toe box on these boots took a little while for me to get used to compared to most boot designs that are more narrow on the toe. (This may be a tremendous plus for people with wide feet) Don't let this fool you though, because this is just a nit-picking note on my end.
If you are looking for a lightweight, waterproof boot with great traction and virtually no break-in period, the NEW Steadfast 6" by Danner is a good choice. If you are looking for a comfortable boot in the 30F-80F range, then the Danner Steadfast 6 inch boots may be the boots for you. For more information on the Danner Steadfast 6 inch boots please visit Danner's website by clicking here!