Properly stabilizing your bow does many things. It changes your bow's moment of inertia which keeps your bow on the "x" longer and forgives minor form glitches during the shot. It will also tame your pin from a choppy and erratic state to one that is stable and easier to hold on the target. Which is the best stabilizer on the market? Well, we think one that is well built, offers great adjustability, and one that has a great weight system. In this review we are going to check out some stabilizers that are trusted by some of the world's top archers like Jesse Broadwater, the AAE Hot Rodz Nitrous Stabilizers.
The AAE Hot Rodz Nitrous Stabilizer System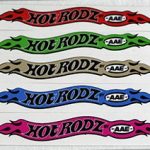 The Hot Rodz Nitrous stabilizers are made of high quality and extremely stiff modulus carbon. The bars are 0.700″ in diameter and possess an internal dampening system.  Due to their high quality components and build, the Hot Rodz Nitrous stabilizers are extremely forgiving and are some of the best tournament bars on the market. Add the sharp looking and customizable graphics and your rig will be eating x's in style!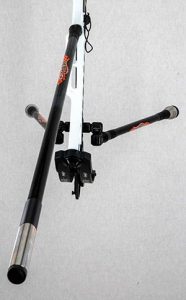 Hot Rodz Nitrous Front and Back Bars
The Hot Rodz Nitrous stabilizers are offered in a many different lengths. This wide variety accommodates archers who prefer both light and heavy bow setups. The further away from the bow your weights are, the greater the stabilization. So an archer who can't hold a heavy bow without tremoring may prefer a longer rod/less weight option. On the flipside, 3D and field archers may want their rods to be more wind resistant and opt for shorter rods. It really comes down to personal preference. Let's take a look at what they offer:
10″ @ 3.0 oz
12″ @ 3.25 oz
15″ @ 3.55 oz
27″ @ 4.45 oz
30″ @ 4.8 oz
33″ @ 5.2 oz
Hot Rodz Stabilizer Mounts
The Hot Rodz Nitrous stabilizer mounts offered by AAE are what really make this stabilizer system special. Let's take a look at the technology.
Gripper Quick 10 Front Bar Mount
The Gripper Quick 10 front mount is awesome. The 10° downward angle adds a very effective stability factor that is very noticable in comparison to a straight mount.
In addition to the downward plumbing effect you feel, by rotating the Gripper Quick 10, you can "off center" the front weights which can correct a hold that favors either the left or right. On my particular setup, I find that rotating the front weight to left of center actually brings my default right hold to dead center.
Gripper Single Side Stabilizer Mount
The Gripper single is an extremely adjustable side bar mount that utilizes a tapered fit for a rock solid lock. Made from 7075 aluminum, the Gripper single is extremely rigid and also has laser etchings which will make tweaking your setup a breeze.
Worried about losing mounting bolts? No need. The bolts are self contained thanks to AAE's BLS or Bolt Lock System. The BLS makes removing or adjusting the Gripper single effortless. The main mounting hole is also elongated which offers critical left to right adjustment when you need your back/side bar to point straight back while missing the bowstring.
Gripper Double V-Bar Back Stabilizer Mount
Does your bow prefer a back bar that is almost straight back or is your back bar coming to close to your leg? You may be a candidate for the Gripper Double V-Bar.
The Gripper Double V-Bar is as adjustable as the Gripper Single but offers the added stability of a second back bar.
Many archers, like myself, prefer the bars further away from the bowstring and their body. Although you have to deal with the added weight from the second back bar, from my experiences, the double v-bar setup will plumb your bow quicker. With a quickly plumbed bow, you can concentrate on the "x" more and your sight's level less.
Hot Rodz Nitrous Stabilizer Weights
No stabilizer system is complete without some high quality weights. Let's have a look at what AAE has to offer.
Front Bar HWS (Hidden Weight System)
The nicely engineered weight caps which feature AAE's Hidden Weight System or HWS offer a wide range of total weight that can be added at the end of the front bar.
First, you choose which weight cap you would like to start with:
1 oz black
4 oz stainless steel
8 oz "Big Rig" stainless steel
15 oz "Heavy Hauler" stainless steel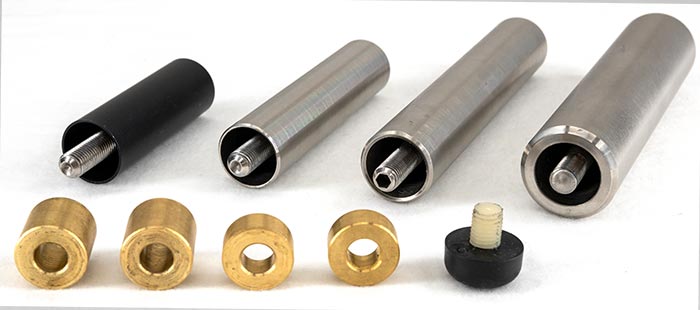 Once you have your weighted cap on, you can now fine tune your setup by adding the internal weights of the Hidden Weight System. Simply unscrew the weighted cap and slide additional weight into the weighted cap.
The amount of additional weight available (space) is:
1 oz black + 2 oz
4 oz stainless steel + 3 oz
8 oz "Big Rig" stainless steel + 4 oz
15 oz "Heavy Hauler" stainless steel + 4 oz
While the HWS leaves you with a maximum front weight of 19 oz, we have discovered that you can indeed screw different weighted caps into each other if you desire additional weight.
Back/Side Bar Weights
The back/side Hot Rodz target weights resemble the standard disc shape weights offered by the majority of stabilizer manufacturers. The 1/3 oz (aluminum), 1 oz, 3 oz, and 6 oz weights have a beautiful rounded finish and are offered in the following colors: stainless steel, black, orange, purple, red, green, pink and neon yellow.
The aerodynamic 6 oz tapered weight offers a nice transition from the bar diameter to the full diameter of the standard disc weight. These weights, along with the supplied threaded rod, can normally be assembled in a fashion to include the rubber end for a nice finished look.
Performance of the AAE Hot Rodz Nitrous Stabilizers
The performance of the Hot Rodz Nitrous Stabilizer system is outstanding. The bars are as stiffest in the game and they look great on any rig. The Gripper mounts offer easy adjustments and are rock solid.  Once installed, they don't come loose thanks to their tapered fit design.
Adjusting the Hot Rodz Nitrous Stabilizer system is simple thanks to the Bolt Lock System and the laser etched markings. If you're like me, you aren't happy until your bow is sitting just right at full draw and with the numbered markings, it's easy to record your setting for reference during additional tweaking.
The Gripper Quick 10 also has tightened our groups thanks not only to it's 10° downward angle, but also the fine tuning you can achieve by rotating it out of center to the point in which your hold is dead center.
Have a look at how much longer your bow will stay on target with a properly setup stabilizer system like the AAE Hot Rodz Nitrous stabilizers.
Our Thoughts on the AAE Hot Rodz Nitrous Stabilizers
These stabilizers are a must have. All we have to really say is that Jesse Broadwater uses them and that should be enough lol, but we hope that you now have a better understanding of the different parts of the system that we have covered.
The only improvement that we could suggest would be for the double v-bar mount to have the laser etchings numbered symmetrically for easier recordings. Currently you could have the back bars angled the same way yet show different numbers due to this minor inconvenience.
Overall, we think you will be extremely satisfied with these stabilizers. The system is brilliantly engineered, rock solid and will allow any archer to dial their hold in a much as possible. For more information on the Hot Rodz Nitrous stabilizers please visit Arizona Archery Equipment at https://arizonaarchery.com.