The Mathews MR-6 is one of the most accurate speed bows on the market. With an IBO speed rating of 354, it will definitely decrease your pin gap for better accuracy in the field. With a taxing draw cycle and a 6 inch brace height, this bow is not for a beginner or anyone with questionable archery form. To reach this bow's potential, its best to choose an arrow just over the 5 grains per pound of draw with an archery program and shoot with very good form. We have this bow set up with a Spot Hogg Hoggit 7 pin sight and we are accurate out to 80 yards.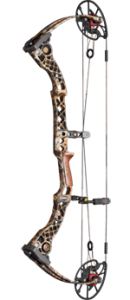 Specifications:
IBO Rating Up to 354+ fps
Cams AVS Cam
Riser Length 27″
Axle-to-Axle 33″
Brace Height 6″
Draw Weight 50, 60, 70, 80 lbs
Bow Weight 4.45 lbs
Let-off 65%, 80%
Draw Lengths 25.5″ – 31″
Half Sizes 25.5″ – 30.5″
String/Cable String: 62 3/4″  | Cable: 30 3/8″ | Yoke: 12″
Pros
Quality product from Mathews
Unbelievable speeds.
Fairly quiet during the shot
Properly set up, its accurate out to your last pin (which for us is 80 yards)
Cons
A little on the heavy side
draw cycle is demanding
If you're looking for a speed bow, visit your local Mathews Dealer and give the Mathews MR6 a try. You'll be glad you did. We give the Mathews MR6 7 out of 10 stars.