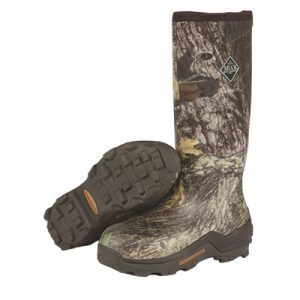 The Muck Boots Woody Elite hunting boot is a colder weather, waterproof boot that is ideal for big game hunting. This part neoprene, part rubber boot is offered in Mossy Oak Break-Up with a suggested temperature range of -40° to 40° F. This 17.625 inch tall boot features an antimicrobial treatment along with Muck Boot's scent masking technology to ensure the Woody Elites have less of that "new tire smell" that a lot of rubber boots have when brand new.
The boots have a reinforced toe and an aggressive MS-1 outsole for durability and stability. The 2mm thermal foam underlayment in the instep area and the stretch fit top provide both added and retained warmth. Overall, this boot is built for maneuverability and warmth in a variety of environments.
The look and feel of the Muck Boots Woody Elite hunting boots
Our first impressions of these boots were great. The Mossy Oak Break-Up looks awesome from the top of the outsole all the way to the stretch fit top. Having worn Muck Boots before, I knew that my normally 12.5 sized foot should feel great in a size 12, and it did. The size 12 Woody Elite offers me decent support while leaving enough wiggle room to wear multiple socks during colder weather.
The snug fit top, which includes a high quality boot loop, was a new feeling that I initially was unsure of. I'm a stocky guy, and as it advertises, it is snug. It's elastic top, for some, will require you to stuff your pants into these boots, but it's a minor inconvenience for the benefit it delivers, trapped heat. Heat rises, so the snug fit top helps to trap the warmth lost from your feet inside the boots. For me it's a perfect snug fit that isn't uncomfortable at all while walking or climbing.
Maneuvering in Muck Boots Woody Elite hunting boots
The Woody Elite hunting boots are easy to get around in. While I wouldn't recommend any tall rubber/neoprene boot for all day hiking, these are ideal for most hunting situations. These hunting boots are plenty flexible, from the heel on up, for scaling hills and climbing into treestands. Their tall height of 17 5/8 inches allows you to cross fairly deep creeks and flooded areas. I have worn these during hunting trips in which I traveled upwards of 2 miles and they did not make me sore or cause blisters. Overall, they deliver on the typical Muck Boots quality.
Temperature range of the Muck Boots Woody Elite hunting boots
While I have worn the Woody Elites in temperatures that ranged from mid 20°s to the 40°s, I was eager to strap them on in weather that should have kept me home. On January 17th, in northern Illinois, I got my chance to put them to the test. That afternoon, I was facing a high temperature of 5° with a northwest wind of 17 MPH with gusts up to 34 MPH that created a windchill of -17° F. I was laughed at by many and called stupid for going out, but I figured I could last at least 3.5 hours.

For this venture, I wore dress socks as foot liners and a cushy pair of merino wool socks. In addition, I installed Hot Hands brand toe warmers in each boot. I figured my sock and toe warmer combination would do the trick. I was wrong. While advertised to be suitable for a temperature range of -40° to 40°, they fell short on that cold January day. I lasted around 2 3/4 hours and then started to lose toes from the pinky toe in. I could have probably stretched out the hunt til last shooting light, but a dozen deer moved through the area wide of me and I knew I probably wouldn't see another deer. When I left my tree, I had lost feeling in my outer two toes on each foot. I'm guessing the lower end of their suggested temperature range is off around 60 degrees for my feet.
In conclusion, the Muck Boots Woody Elite hunting boots are good, versatile boots for most big game hunting situations. Their flexible uppers and aggressive outsole deliver on comfort and performance in wet or dry flat and hilly terrain. The only area the Woody Elites fell short was on the advertised temperature range. I would suggest using these boots in temperatures that range from 20° to 50° F. At this time, we will say that these boots are durable. We haven't noticed any material flaws yet and will update this review if we do.
For more information on these hunting boots and other hunting boots in Muck Boots lineup, visit their website at http://www.muckbootcompany.com/.