For the past several years I have been talking about getting out west for antelope hunting with archery tackle.  With time and money working against me, it had just never lined up for me to make that trip possible.  Over that stretch of time, I had done a lot of research on antelope populations in different areas across a couple of different states.  From my experience, 75% of success stems from scouting, 24% stems from putting your time in, and the other 1% is making the shot when the opportunity presents itself.  With several other hunts already planned for the fall of 2014, It was beginning to look like it was going to be another year of talking about going on an antelope hunt, and another year of not making it happen.  The main thing that was holding me back from going was the fact that I couldn't find the time to make the scouting trips during the summer months to increase my odds when season rolled around.  This to me was reason enough to not want to spend the money on the tag and make a 12 hour drive west to hopefully get lucky.
Preparation for antelope hunting
This is when it dawned on me to get in touch with some outfitters out there that had antelope running around.  Even though I much rather do a hunt on public land or on land that I got permission on, I felt like if I was going to make this hunt happen without pushing it off yet another year, this was what needed to be done.  I called several different places and talked to a lot of really nice people about the operations they were running.  After going back and forth multiple times on prices, states, and areas, I had made up my mind.  I booked an archery antelope hunt in Northwest Nebraska for the opening week of the season.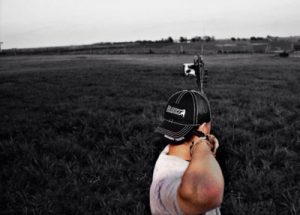 Summer has always seemed to drag on when the anticipation of fall is on the rise.  This summer seemed to be the worst yet.  Working 2 jobs and long hours all summer long was really starting to take a toll on me and I was ready to kick off the season on my 1st ever antelope hunt.  A few weeks before the hunt I began shooting my bow, and I was shooting it a lot.  This would be the 1st time in my life that I was paying someone to come and hunt on their property, and I wanted to be more than ready to punch my tag if the opportunity arose.
The day had finally come, it was time to head out west and chase this bucket-list goat, and I couldn't have been more fired up.  I worked that day from 7a-5p and my cameraman James and I hit the road as soon as I got home.  After an 11 hour drive, we arrived at Heartland Pride Outfitters a couple of hours before sunrise.  We took a very brief power nap and the next thing I knew we were getting woke up by our guide, Cody Kuck.
Even with the lack of sleep, I was ready to get after em' that morning.  The forecast called for highs in the 90s those first couple of days and then a drop in temperature by day 3 and a chance at rain.  Although 90s sound miserable, and they are..it was ideal for this type of hunt.  We would be setting in ground blinds near water holes from sun up to sun down in hopes that a thirsty goat would come in for a drink sometime during the daylight.
Cody dropped us off at our blind, in the middle of seemingly nowhere, well before daylight.  Day began to break and we could see close to a mile to the north and amile to the south.  To our west was a hill a couple hundred yards away and to the east was a rolling hill a few hundred yards away.  There was not a tree in sight, just rolling prairie.  30 yards in front of us stood a windmill with a full water tank beneath it.  The first couple of hours were very slow, and all of a sudden a group of 3 goats came around a knob about 800 yards off.  They were so far away that I couldn't make out what they even were for sure but I was just happy to lay my eyes on them.  As time passed, we did see a couple more goats before the afternoon but unfortunately, nothing even remotely close.  The temperature was well into the 90s that day and I can guarantee it was pushing 110+ in the blind.  Day 1 came and went with 16 hours in the blind and no goats relatively close.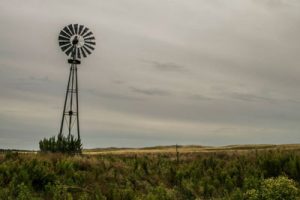 We slept well that night and before we knew  it, Cody was brewing coffee and waking us up for round 2.  After a relatively slow day the day before, he dropped us off at a different blind in a totally different area of the property.  With weather much like the day before the game plan remained the same, sit on a water hole all day.  Shortly after daylight we had a couple of nice muley bucks way off in the distance heading up to bed in the hills for the day.  A little while later a muley doe and fawn skirted past us inside 100 yards.  Little did we know that our action was done for the day.  After another 16 hours, day 2 ended with seeing 4 mule deer and 0 antelope.
At this point, we were beginning to get frustrated mentally and worn out physically.  16 hour days in 100 degree temperatures really wear on a person.  With 2 days down and 2 days remaining, we were still optimistic that our guide would put us where we needed to be to make it happen.  Like I said earlier, day 3 was forecasted rain.  This meant that the watering holes were going to be less desirable because water would be more readily available on the prairie from the rain falling.  It was time to change up our tactics.  Cody suggested that we sit on a large arrogated alfalfa field the following day where he noted a lot of antelope activity in days prior.  He actually had driven past the field the day before and seen a respectable buck using the field.  We were looking forward to a change in scenery the following morning.
Temperatures were cooler that morning, and when day broke we were looking down on a massive alfalfa field that was a few hundred acres in size.  The alfalfa was arrogated so it was as green and lush as can be.  It was no secret that this was a good area to see some goats.  It didn't take long and a group of a dozen or more antelope started moving off the prairie and heading to the alfalfa field.  When they entered the field, they were still 3-400 yards away.  After glassing all the antelope, we could tell that it was all does and there young.  We were optimistic that a buck would eventually join the party.  The big group fed around in the field for several hours but the closest they ever came to us was still over 200 yards away.  This is when you really have to step back and take into perspective that your guide is the one that knows this land.  He lives here, this is his job, and he knows what these animals do.  For him to know where to put a ground blind in a field of this size, shows that his knowledge is where it needs to be.
The big group of antelope eventually worked off the field and back onto the prairie up behind us.  It was getting close to midday now and we were actually just getting ready to bust into the Yeti for a sandwich and a bottle of water.  I stood up to stretch and in the process I peeked out the back window of the blind.  Coming down the fence line behind us was a good buck!  Of course after over 40 hours in the blind and not having a single antelope in bow range, and not even laying eyes on a buck, my cameraman thought I was joking.  It didn't take him long to realize just how serious I was.  The buck dipped into a low spot and I lost sight of him but when I last seen him he was only 100 yards out and it appeared that he was working in our direction.  The next couple of minutes seemed like an eternity and we were on pins and needles waiting for him to pop up below us.  All of a sudden I could see the tips of his prongs at about 35 yards.  He was RIGHT there but we still couldn't see his body because of the hill in the way.  He circled the hill and came into good view at 75 yards right in front of us.  I had ranged him several times already and since he showed no sign of coming closer, the thought of shooting him at 75 yards crossed my mind several times.  I had practiced a lot, but the factor that held me back was the gusting winds.  With 15-20mph gusts of winds, a shot at that distance is not worth wounding the animal.  I bit my tongue as the buck angled away from us and began feeding about 120 yards away from us.  At this point, we were down, but definitely not out.
The moment of truth
As luck would have it, a few of the does from the big group came back onto the field about 200 yards to our right and they began working straight towards us down the edge of the field.  The buck seen them and turned on a dime and started heading our direction as well.  This was it, we were about to get our chance.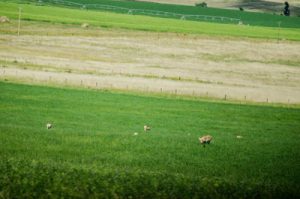 With the does feeding and the buck feeding and following them, the blood was really beginning to pump through me.  My rangefinder was working overtime at this point as I was ranging him repeatedly as he closed the distance.  I had made up my mind that once he got inside 50 and went broadside, I was going to take the shot.  He hit 50 and was facing directly towards us, I couldn't do anything but shake my arrow at him. FINALLY, he turned..I ranged him at 45 yards.  I had to get down on my knees in the blind to make the shot out the side window work.  I ranged him once more, and then I clipped onto the D-loop.  I came to full draw, took a couple of deep breaths, settled my pin in the armpit, took another deep breath..and squeezed the trigger.  The arrow flew perfect, and I heard it smash him before he took off running across the field.  He was running directly away from us so I could not see where I had hit.  After he got about 150 yards out he circled to the right and I could see the blood gushing out of his side exactly where I was aiming.  He went down around the hill and out of sight and we never seen him again.
You can about imagine the excitement in the blind.  40 hours into the hunt, not having seen a single buck and for one to just show up out of nowhere and for it to come together like it did, unreal feeling to say the least.  The first thing we did was call Cody and let him know what happened.  It is his rule to call him and wait for him to show up before trailing a hit animal that didn't go down in sight.  While we waited for him to arrive we watched the footage back and were just as excited as the first time, the shot looked like lungs and we knew he couldn't have gone far.
When Cody picked us up, we were grinning from ear to ear.  After explaining exactly what happened, we got on the trail.  After about 300 yards on the trail, we could see a white belly ahead of us in the alfalfa.  At that moment I was overwhelmed with emotion.  For the past several years, this was a hunt that I had wanted to do very badly.  To be able to finally find the time and money to make the trip happen, and for success to be at the end of the trail wasa feeling that I will never forget.  Walking up on that antelope, I felt a sense of gratitude that only other bow hunters can relate to.  I was fortunate enough to play the game again, and I was able to harvest one of God's great creatures that is roaming our great country in the west.A special thanks goes out to James for sticking it out with me and never losing hope that our time would pay off, and I would like to especially thank Cody Kuck at Heartland Pride Outfitters for all of his hard work and for giving me the opportunity to notch the antelope off of my bucket list.