The selection of bowfishing bows varies just like any other weapon category. Anything from hand-me-down bows to speciality bowfishing bows can be used depending on the budget and desire of the bowfisherman. Bowfishing bows are typically quick draw bows that offer less draw weight let off than their deer hunting counterparts. Bowfishing bows will also have a longer axle to axle measurement. The longer axle to axle length of a bowfishing bow delivers less "finger pinch" at full draw making it a desired feature; but like stated before, it comes down to personal preference. Lets take a look at some key features of bowfishing bows.
Key Features of a bowfishing bow
There are certain features of a bowfishing bow that make it more shootable and shootable for a longer period of time. Since the majority of bowfishing bows come in at around 3.5 lbs, weight is not really a factor. Two factors that do vary in the marketplace and can make a difference when choosing you bow are: draw weight and axle to axle length.
Bowfishing bows – Draw weight
The best weight I have found for bowfishing is 30 to 40 lbs. Shooting about 30 lbs provides an easy and repeatable draw and is better for bowfishing in shallow water. When shooting a lower weight while wading or bowfishing shallow water from a boat, your arrow isn't as prone to stick in river, creek, or lake bottoms like a heavier poundage bow's arrow would.
Shooting a higher weight, around 40-50 lbs, is beneficial in deeper water where you need the increased kinetic energy and penetration. The downfall of shooting a higher draw weight is the probability of 'arrow to structure' damage and increased fatigue from repeated shooting. Get out for a day and shoot different poundages repeatedly to see what draw weight is right for you.
Bowfishing bows – Axle to axle length
Overall axle to axle length of a bow comes down to personal preference. While longer axle to axle bows offer less "finger pinch," these taller bows are a little harder to maneuver in a bowfishing boat. Some guys, like myself, like bowfishing bows shorter for swinging faster on fish. There is give and take when it comes to finding the right bow. In my opinion, you really have to get in a boat and get a days worth of shooting with a couple different bows to see what you prefer.
Bowfishing bows for sale
Companies like AMS Bowfishing, Cajon Bowfishing, and Oneida have taken advantage of this growing sport and came out with their own line of bowfishing bows. These bows can range from $225 and higher. You are able to purchase most of these bows blank as well as a combo kit version with a reel and arrows.
Here is a breakdown of what is offered from some of the leading manufacturers of bowfishing bows.
AMS Bowfishing Bows
AMS offers the greatest variety of bowfishing bows. Their lineup currently consists of 3 bows: the Swampit, the Fish Hawk, and the Jr. Hawk. The main difference between the bows is the draw weight range. All three bows offer a 35.5 inch axle to axle length ensuring a comfortable draw and hold. The flagship bowfishing bow of this lineup is the Swampit. The MSRP of the Swampit (bow only) is $344.99.
Swampit
Draw weight: 40-50 lbs
Draw length: 15-30 inches
Let-off: 20%
Axle to axle length: 35.5 inches
Brace Height: 7.75 inches
Weight: 3.5 lbs
Fish Hawk
Draw weight: 30-40 lbs
Draw length: 15-30 inches
Let-off: 20%
Axle to axle length: 35.5 inches
Brace Height: 7.75 inches
Weight: 3.5 lbs
Jr. Hawk
Draw weight: 10-20 lbs
Draw length: 15-30 inches
Let-off: 0%
Axle to axle length: 35.5 inches
Brace Height: 7.625 inches
Weight: 3.4 lbs
Cajun Bows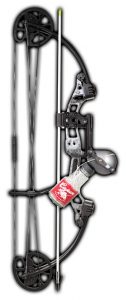 Cajun Bows, which is now owned by Bear Archery, offers only one bowfishing bow, the Sucker Punch. The Sucker Punch is a shorter bowfishing bow which may decrease the comfort of the shot, but the smaller profile and lighter weight may increase maneuverability and performance in the boat. The MSRP of the Sucker Punch (bow only) is $299.99.
Sucker Punch
Draw weight: peak weight 50 lbs
Draw length: 17-31 inches
Let-off: 60%
Axle to axle length: 32.25 inches
Brace Height: 7.25 inches
Weight: 3.2 lbs
Oneida Bows
Oneida and their uniquely designed bows have been around for many years. Their lightweight Oneida Osprey model is designed for the fast drawing sport of bowfishing. Super durable, the Oneida Osprey offer a wide range of draw weights and let offs. The Oneida Osprey (bow only) comes in at an MSRP of $765.
Oneida Osprey
Draw weight: 30-50 lbs
Draw length: 26-32 inches
Let-off: 50-80%
Axle to axle length: 44-45 inches
Brace Height: 6-7 inches
Weight: 3.4 lbs
Bowfishing Equipment – kits, arrows and points
Bowfishing kits
AMS, Muzzy and Cajun Bowfishing offer kits/reels to accommodate standard compound bows.
AMS Retriever Pro Tournament Series comes in at around $115 and is specially designed for the tournament bowfisherman. Made in America, this high performance bowfishing kit includes the AMS Retriever Pro Tournament Series Reel featuring a 4.3/1 tournament series gear. The reel has an extra long handle for increased leverage during fights. The included 25 yards of high visibility 200# yellow dacron line ensures the retrieval of larger fish. For additional information on this kit, visit AMS's website at http://www.amsbowfishing.com/.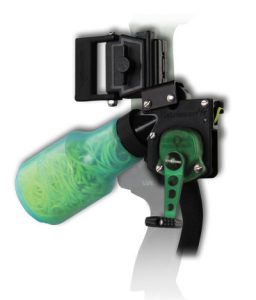 Cajun's Hybrid Bowfishing Kit comes with a reel, line, two arrows with tips, and an arrow rest. Priced at an affordable $169, it can turn almost any bow into a bowfishing bow. For more information on Cajun Bowfishing, click here.
Muzzy, a company that has been affiliated with bowhunting for years, has a nice little kit that comes in at $129.95. This kit includes a closed face reel, an arrow rest, 100 feet of 200 pound test line, a heavy duty reel seat, rubber finger guards, and a 1020-C Classic Arrow with a carp point. This kit is different from the previous two due to the closed face reel.
Bowfishing arrows and points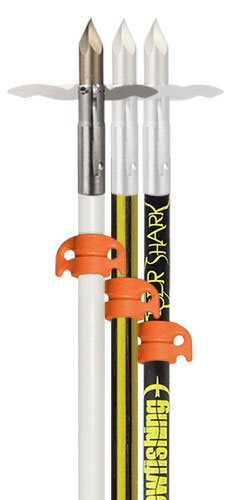 Bowfishing arrows can range from $5 for a bare shaft up to $40 for a crossbow bowfishing arrow. Bowfishing arrows are made of either carbon, fiberglass or a combination of both. Most bowfishing arrows come as a completely built arrow, which includes a point/tip, safety slide system and nock. The safety system of an arrow, like offered with the AMS lineup of arrows, keeps the line in front of the bow for safety. This ensures the line won't catch on your bowstring or arrow rest during the shot.
AMS Tiger Shark LGT Bowfishing arrow
For serious bowfishermen, AMS Bowfishing offers the Tiger Shark LGT. This arrow offers a composite inner core and an outer carbon wrap which ensures excellent performance, straightness and penetration. This shaft, like all of the AMS shafts, comes with a press in nock and pre-drilled holes for the AMS safety slide system. This high performance shaft retails at around $25 for the bare shaft and around $45 as a complete arrow with press in nocks, safety slides, and a high performance point like the AnKor FX or QT installed.
Bowfishing points
There are a variety of bowfishing points on the market that will get the job done. Let's look at some from AMS that not only deliver on durability but also ease of use due to their "blade release" feature.
The AMS AnKor QT Point
The AnKor QT (quick turn) Point is a super tough point that offers collapsed barbs during the arrow's flight, 2 inches of a barb spread to hold fish, and a quick release with a turn of the arrow shaft. This point retails at around $16.
The AnKor FX (fixed) is another super tough bowfishing arrow point that delivers collapsed blades during the shot and offers 2.5 inches of a barb spread to keep fish on the line. The AnKor FX also releases the fish but with two turns of the point's tip. This arrow retails at around $15.
We hope this page on bowfishing bows and equipment has been informational for you. Bowfishing is a great sport and once you start you're liable to get hooked! If you are interested in getting into bowfishing, check out retailers like AMS, Muzzy, Cajun Bowfishing, or Toxic Bowfishing. These manufacturers will have everything you need to get started. Good luck and when you get on the water, just remember to aim low!!