Growing up in the Midwest I have grown accustomed to the tactics and strategies that you commonly read about in numerous hunting articles. Making the jump in 2012 to hunting western whitetails, I began to learn fast in order be successful year in and out that some changes would need to occur. Much of what I have learned over my 15 years of hunting in Central Wisconsin I would be able to apply. However there are numerous elements that I don't wish to go into detail at this time, that make traveling west every season a challenge and one that I look forward to every fall. My 2014 North Dakota experience would be no different.
North Dakota Deer Hunting 2014
North Dakota is special place for me and many of us on The Breaking Point. For me it is often my first hunt of the season as well as one of my last. Starting and ending the season in North Dakota brings a full circle effect at season's close that allows me to look back on my season and reflect in several ways.
With the closing of summer in Mid-August, the fall really begins. The first trip of the year is merely a scouting mission. Hanging stands, putting out cameras, putting many miles on the vehicle, and  glassing deer are what usually coincide. This first North Dakota trip lays out the ground work for season to come.
Fast forward now to opening weekend of season. The first weekend of the season, I find myself not with a bow in hand but riding shotgun, running the camera equipment with Brennen Nading in the driver's seat. In one of our newly acquired spots, trail cameras showed a handful of shooter bucks moving around dawn and dusk.
With it being opening weekend, hopes were high but so were the temperatures. With highs ranging in the 80's, the deer movement was minimal. After a few solid days of hunting it was time to return home to our regular jobs. The next three weekends afterwards, we would make the 1700+ mile round trip again and again only to be disappointed by similar warm fronts of weather. Frustration was starting to set in not only for me but for many on The Breaking Point crew. If the weather wasn't enough to deal with, every voyage west we would discover shooter bucks making appearances during legal shooting hours while we were gone via our trail cameras.
The Fourth and final trip of my early season in North Dakota I would finally be up to bat. Being tempted over the last several weeks I was chomping at the bit and ready to settle the score. The last day of our hunt began like all the others making rounds and checking cameras mid-morning to see what spot to hunt in the evenings. My golden rule, that I have adopted while hunting North Dakota the last few seasons is, if you get a shooter buck on camera in the morning, you better be in that stand in the evening. More often than not, these bucks typically don't travel far to bed. Just in the last three seasons, five of the last six bucks we were fortunate enough to harvest showed up on the trail cameras the morning we slapped a tag on them.
Caught on camera
As we were looking through the pictures on our second camera, a familiar buck caught our eye. He was a beautiful tight racked 10pt, probably pushing 140 inches.. The spot overlooked a still green soybean field with a large marsh to the west.  From what we saw on the camera, he was in the area and had recently shed his velvet. This shooter buck was in front of our stand the prior evening just before last light.
With a slight drop in temperatures that evening, cameraman James Larson and I both felt confident we were going to see some action. We slipped in early that night and quietly hung a double set in an island of trees next to the beans. It was only a matter of minutes after settling in the stand that we could see horns moving in the marsh a few hundred yards away. A nice 8 pointer was the first deer to make its way out of the cattails and into the beans. As the evening transpired it was as if the flood gates opened up. One deer after another made its way out of the marsh and into the bean field; slowly moving in our direction. Each one continually looked back at the marsh, giving me great confidence the buck we were here for was scheduled to make his grand entrance. Now with nearly a dozen does, fawns, and bucks within a hundred yards of our location, we were on pins and needles.
With plenty of daylight left the tight 10 pointer arose from his bed a few hundred yards off and was on a fast pace directly at our stand. With two other nice bucks already in range sparring, this evening was looking to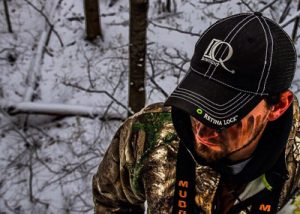 have a storybook ending. Unfortunately one deer in the field had different plans. With the buck less than 150 yards away and closing, a spunky fawn in the group decided to go for it's evening jog. This put all the deer on alert, eventually clearing the field and bringing the 10 along with them. I became sick to my stomach; yet another 8 hour drive home empty handed would be on the agenda. With other hunts on the schedule for mid-season in South Dakota, Illinois, and my home state of Wisconsin, North Dakota would have to wait. Late season would be the next time I would make it back west.
North Dakota Deer Hunting Round 2
It was now time to prepare for my late season North Dakota deer hunt, which would take place during my week of vacation time during mid December. Brennen and I spent our Thanksgiving weekend driving to North Dakota, resetting trail cameras, putting up ground blinds, and scouting to see where some good bucks were hiding.
Our game plan, although simple, changes in late season. Find the cover or food and you will find the deer. Many early season spots we typically hunt no longer support enough crops or shelter to hold deer during the winter months, so every year we start right from scratch entering late season. During the four days we spent scouting that weekend, I alone manage to compile over 2,300 miles on my vehicle. CRAZY YES!!! But a solid stage was being set for the weeks to come.
My mid December vacation finally arrived and a handful of the guys were along with tags to fill as well. The weekend prior to me leaving, Brennen was in North Dakota and relayed an abundance of useful info of the deer activity in the area.  There were some decent bucks in the area.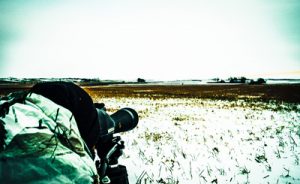 Mild weather forecasted for the week was going to make the hunt a challenge. After two days of hunting and minimal deer sightings, concerns began to set in for everyone. The third day began, as always, making the trail camera rounds. The first spot of the morning was a young growth pine patch roughly 40 acres in size bordering recently harvested agriculture fields. Deer traffic was high in the area. We were shocked when one of the area's shooter bucks, a nice 10 pointer, was on camera only 20 minutes before we checked the card. Our decision was easy on where to go that evening. The wind wasn't exactly in our favor, but now was the time to get aggressive. A warm front was moving in the area so we concurred that we may only have a couple opportunities to get the job done.
We hurried to check the rest of our cameras and got in the blind plenty early. A few small fawns were the first to work by our location. Within the last half hour, a smaller 8 pointer, followed by the nice 10 pointer, worked into range.
The moment of truth
Now on my sixth trip to North Dakota and closing in on 9,000 highway miles, it all came down to me making the shot. I settled the 20 yard pin of my IQ sight, said a quick prayer and shot. The arrow hit its mark true and the buck went on his last ride off into the sunset. An indescribable feeling immediately set in; finally I settled the score.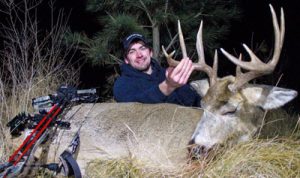 The recovery of this great animal was one of the most special recoveries that I have ever been a part of. To have a handful of The Breaking Point guys along meant all the difference. These guys put the same amount of effort into every trip to North Dakota. To share the experience with them was priceless. It was a team effort and wouldn't have been possible without them.
The rollercoaster ride that was North Dakota 2014 was, without a doubt, one that I will never forget. In just a few short seasons of chasing whitetails on the western front, I have grown a greater respect for this immaculate creature. Their ability to adapt and survive in a variety of ecosystems amazes me and will continue to bring me west every year to pursue them.