When it comes to hunting an area which a hunter has never visited, Google Earth is by far the most powerful deer hunting scouting tool. With Google earth, any hunter can zoom in on any place on earth to view up to date satellite imagery of fields, tree lines, fence rows, bodies of water and woods. The hunter can also tilt the earth to check out the terrain of the land, noticing ridges, saddles, draws, ravines, etc. When you master using Google Earth you will give yourself the advantage of knowing exactly where a potential funnel or pinch point is located before ever scouting the area.
Where can I get Google Earth?
The free program can be downloaded at http://www.google.com/earth/download/ge/
Once you download Google Earth, open the program up and play with it! Learn how your mouse can be used to zoom in or out with either the right click and drag method or by using the scroll wheel in the center of the mouse. You will also want to learn how to tilt the earth by pressing and holding on the mouse's scroll wheel and dragging the mouse down or up to tilt and to the left or right to rotate. Below is a quick video on how to do some basic moves in the program.
Using a GPS with Google Earth
Google Earth is compatible with magellan and garmin GPS devices. Simply open the program, go to TOOLS>GPS, choose your device and import waypoints and tracks. This will give you an awesome visual on where you have travelled (tracks) and where your waypoints lie on the Aerials.
Do you see a spot that may be a great stand location?
Simply hover your mouse over the spot and record the latitude and longitude of the position and manually enter it into your GPS device. With the combined use of a GPS unit, a hunter can now scout, mark, and get to any potential hotspot in complete darkness… and that is AWESOME.
Using Image Overlays
Image overlays are another powerful weapon in Google Earth's arsenal. By adding an image overlay "over" the satellite imagery, hunters can view hunting maps, scanned plat book pages, and view topographical maps to scale with the click of a mouse. Once the image overlay is made, it can be saved, exported and shared with friends and family.
Measuring With Google Earth
How far of a walk is it from the parking spot to the treestand? How wide is that tree line? Use the measuring tool! Simply click on the measuring tool, select line or path, select units to be used for measuring, and let your mouse do the rest!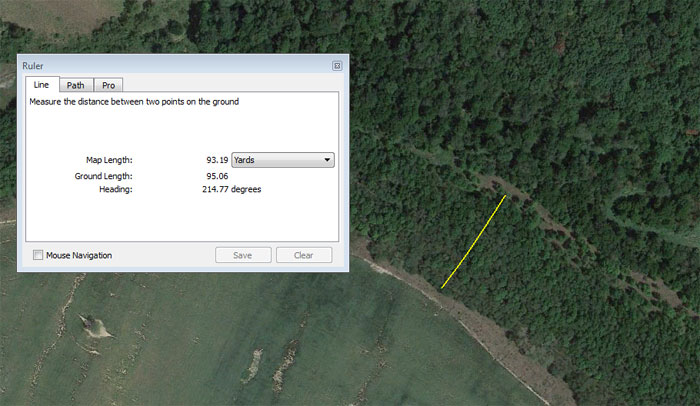 Master the features of Google Earth and execute better scouting and ultimately a higher rate of success in the field!