We, here at Shootingtime.com, would like to show our appreciation towards the armed forces by spotlighting a soldier (active or veteran) who has served our country and also enjoys to hunt. The Soldier of the Month for October 2017 is US Army veteran Sgt. Joe Hilger.
Sgt. Joe Hilger – U.S. Army
Sergeant Joe Hilger, a Ulysses, Kansas native, entered the United States Army in November of 2002 at Ft Benning, Georgia.
Sergeant Hilger's assignments included 2nd Battalion, 27th Infantry Regiment, 25th Infantry Division, Schofield Barracks, HI, as well as 2nd Battalion, 137th Regiment, Wichita, KS.
Sergeant Hilger has one combat deployment in support of Operation Enduring Freedom (OEF-V) and one combat deployment in support of Operation Iraqi Freedom (OIF-V) where he was awarded the Combat Infantryman's Badge, Army Commendation Medal with Oak Leaf Cluster, Global War on Terrorism (GWOT) Expeditionary Medal, GWOT Service Medal, Iraqi Campaign Medal, national Defense Ribbon. His other awards and decorations include, NCO Professional Development Ribbon, Good Conduct Ribbon w/ knot, National Service Ribbon, Overseas Service Bar 2nd award, Overseas service Ribbon 3rd award, and Air Assault Badge.
Sergeant Hilger was Honorably Discharged from active service in March of 2008. Then Joined the Kansas National Guard where he was Honorably discharged in June of 2009. Joe, his wife of 14 years Candice, and their son now reside in Holly, Colorado.
Joe the Hunter
Joe started hunting doves with his grandfather when he was 12 years old. He enjoyed it so much that he explored hunting different animals. He took to the various challenges hunting presented like a natural and was soon an accomplished quail, pheasant, deer, and coyote hunter by the age of 14. Joe never missed a hunting season until he joined the military.
After his military discharge, he renewed his love for the outdoors by hunting anything from bear to ducks. On September 19th, 2011, Joe harvested an absolute giant Muley that scored 203 6/8 inches non typical. A few years later, Joe and his brother decided to test their hunting skills by hunting and competing in the Midwest Coyote Calling Competition. In the novice class, they did extremely well, placing 8th in 2015 and 3rd place in 2016.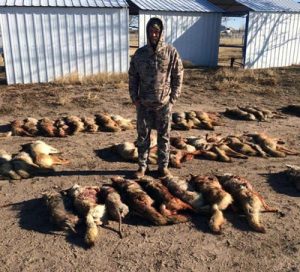 Later in 2016, Joe and his brother headed down to Texas to try their luck wild boar hunting. Once again, the duo did extremely well harvesting two hogs, one weighing 100 lbs. and one weighing 182 lbs.
To fulfill a bucket list item, Joe applied for a black bear hunt with "Field of Dreams" (nonprofit group that recognizes military personnel with a variety of outdoor experiences) and was selected! He was soon on his way to the Harvest Lodge on the Waterhen River in Manitoba, Canada for his hunt. It was on this hunt that Joe harvested a beautiful 380 lb. chocolate bear of a lifetime!
Joe continues to enjoy the outdoors by hunting every chance he gets. We, the staff at Shootingtime.com, would like to thank Joe for his service to our country, wish him good luck this hunting season, and send him a shootingtime.com shirt of his choice. If you know an active or veteran serviceman who is an avid hunter and would like them to be one of our "Soldiers of the Month", send us their information on our Contact Us page.