---
One of the most important pieces of gear we can bring into the field is a quality pair of binoculars. While hunting, great optics can give you a tremendous advantage when it comes to spotting and identifying your intended big game. On the 3D course, a capable pair of binoculars can help you identify exactly where the 12 ring is on a 3D target giving you the advantage over your opponents. On the field course, you'll be able to see your arrow's point of impact allowing you to make adjustments on the fly which are instrumental in shooting your highest scores. The bottom line is if you want to perform at your best, you should invest in a high quality pair of binoculars. In this review we are going to look at a pair of 15x pair of binoculars that we believe is amongst the best in it's class, the Leupold BX-5 Santiam HD 15×56 binoculars.
Leupold BX-5 Santiam HD 15×56 Binoculars Specs and Features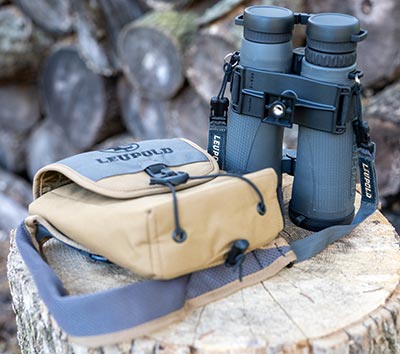 The specs and features of the Leupold BX-5 Santiam HD 15×56 binoculars are what make it a great choice for big game hunting, field archery and 3D archery. Let's have a look.
Specifications
Magnification – 15X
Objective Clear Aperture – 56 mm
Angular Field of View – 4.4° (231 feet at 1,000 yards)
Weight – 45 oz
Length – 8.2 inches
Exit Pupil – 3.7 mm
Eye Relief – 18 mm
Interpupillary Distance – 55 to 74 mm
Close Focus Distance – 9.8 feet
Features and Accessories
The Leupold BX-5 Santiam HD 15×56 binoculars are professional grade optics and that is evident the first time you pick them up. Let's look at some of the features and accessories.

Features
Abbe-Koenig Prism – Allows for maximum light transmission and clarity for excellent long distance viewing.
BAK 4 Prisms – Results in viewing with no edge distortion and a clear, accurate viewing image.
Diopter Focus – Makes customizing the focus for each eye individually a breeze.
Ergonomic Design – Allows for very comfortable use of the binoculars. This is one of our favorite aspects of the Leupold BX-5 Santiam HD 15×56 binocular's design.
Fully Multi-coated Lens System – Produces top of the line brightness and color transmission.
High Definition Lenses – High def, calcium fluoride lenses for crystal clear viewing.
Phase Coated Roof Prisms – delivers increased sharpness and resolution.
Nitrogen Fill Process – Ensures longevity and 100% waterproof performance.
Twist-up Eyecups – Very smooth, adjustable eye cups which adds to the ease of use.
DiamondCoat 2 – Assists in higher light transmission and protects the exterior lenses against scratches.
Guard-Ion Lens Coating – Kind of a nonstick coating for the exterior lenses that sheds water and dirt for the clearest viewing in the field.
Twilight Max HD LIght Management System – Eliminates glare and adds up to 30 minutes of viewing time compared to the competition.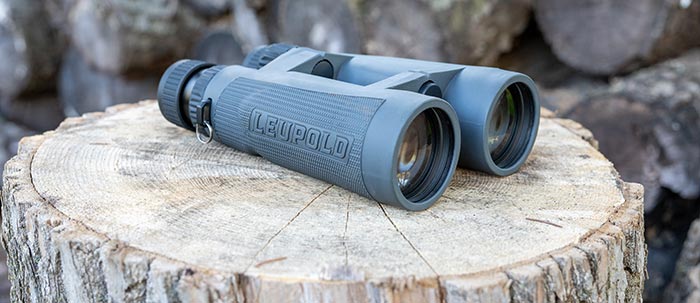 Accessories
Tripod Ready – Comes with a 1/4-20 tripod adapter port allowing for stable viewing on a tripod.
Belt Ready Padded Case – Provides excellent protection during transport and while in the field.
Protective Eye and Lens Cups – Added measure of protection against abrasion and debris.
Shoulder Strap – High quality strap for ease of carrying in the field.
Feel and Performance of the Leupold BX-5 Santiam HD 15×56 Binoculars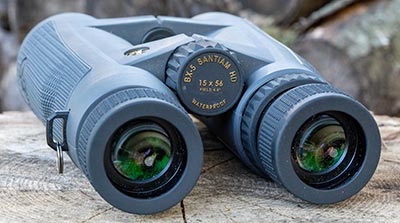 The Leupold BX-5 Santiam HD 15×56 binoculars are what you expect from Leupold. Right out of the box, they feel great in the hand. Although heavier than lesser magnifications, the are extremely easy to hold and use. The adjustable eye cups, focus ring, and width adjustments are butter smooth.
The quality of viewing through these binoculars will give you the advantage you are looking for and expect from a Leupold product. Top it off with the tripod attachment, and we actually prefer carrying these binoculars over a spotting scope. They are at the sweet spot that allows for great viewing by hand on the fly and excellent viewing from a tripod.
Summary
We have always been in the camp of "buy it once". While the adage "you get what you pay for" rings true, you actually get more than you pay for with the Leupold BX-5 Santiam HD 15×56 binoculars. They are right on par with the specs of more expensive premium optics (Swaroski) and are almost $1,000.00 less in cost. For more information on these great binoculars, visit https://www.leupold.com/.