New for 2020 from Elite Archery is the Elite Kure. The Kure is a huge engineering win for Elite and embodies many new technological advances that has raised the bar for the entire archery world. As a result of years of research and development, the Elite Kure is proof that Elite has listened to its customers and delivered a product that has taken tunability and shootability to a new level. Let's dive into our review of what some are considering the best bow of 2020, the Elite Kure.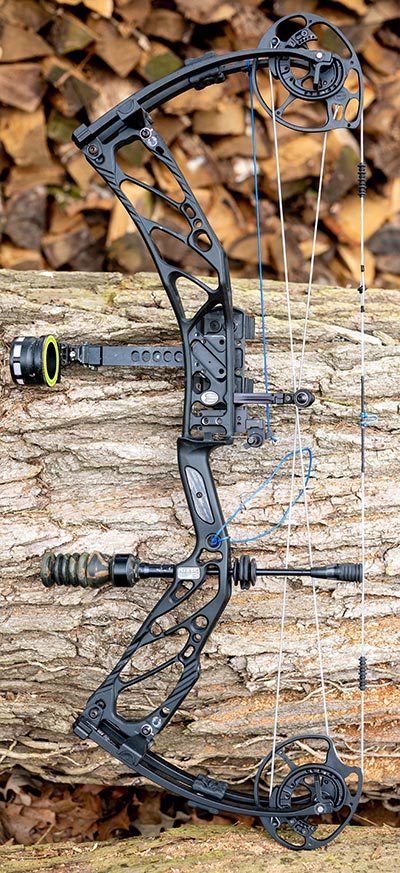 Elite Kure Specs
IBO Speed: 335 FPS
ATA (Axle to Axle): 31 13/16″
Brace Height: 6 9/16″
Weight: 4.6 lbs.
Draw Weights: 40, 50, 60, 65, and 70 lbs.
Draw Lengths: 23″-30″
Let Off up to 70 – 80%
The specs of the Elite Kure are very balanced and respectable. The IBO speed is at or slightly above the average speed of most flagship bow and is coupled by a forgiving brace height of 6 9/16″.
The axle to axle length is at a happy medium between performance and forgiveness. The ATA length of nearly 32 inches, results in a comfortable string angle at full draw in comparison to many of its shorter rivals.
Coming in at 4.6 lbs, the very stable Kure also has an unbelievably wide range of draw lengths, all of which are obtainable by adjusting the Versa Mod System. Archers can customize their Kure in 1/4″ increments from 23 all the way to 30 inches.
Now let's take a closer look at some of the innovative features of the Elite Kure.
The Features of the Elite Kure
ASYM TRI-TRACK CAMS
The Asym Tri-Track cams of the Elite Kure is a wide stable cam system that offers a plethora of options that affect draw length, let off, and overall feel at full draw.
Draw lengths are available in 1/4″ increments by adjusting the Versa Mod System. Simply remove the set screws and rotate the mods to the desired numerical setting for a range of 23 – 30 inches.
Next, you can adjust the let-off in 5% increments from 70-90%. You can configure the cams as a cable stop, a limb stop, or both. The versatility of the Asym Tri-Track cams assure that you'll be able to achieve the draw length and feel that you desire.
STABILOCK POCKETS limbs & S.E.T.
Elite completely re-engineered the limb pocket for the Kure. The limbs are of a wider stance and lock very tight against the riser allowing for maximum performance.
By far, the most innovative feature of the Elite Kure is the new Simplified Exact Tuning or S.E.T. system. With the S.E.T. system, you can adjust the tilt of your cams which in turn adjust the location of your powerstroke. By controlling the string/powerstroke location, we can fine tune our arrow flight, in this case, without the aid of a bow press.
The S.E.T. system eliminates yoke tuning and cam shimming. With a few turns of an Allen wrench, you can dial in your arrow flight in record time.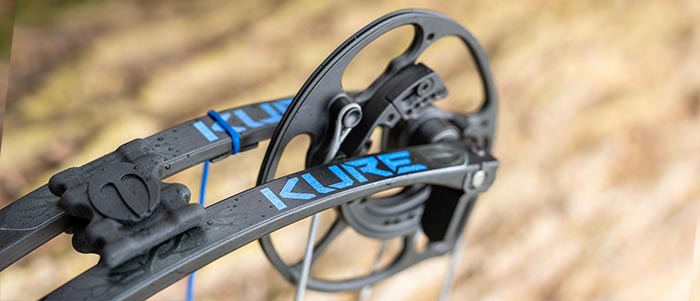 New and Improved Riser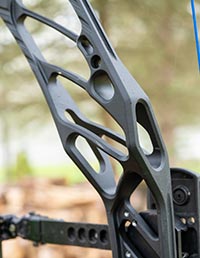 The Elite Kure also has a redesigned riser that features two riser cages. This extremely balanced riser no only looks great, but it also feels great at full draw.
The Kure also features the new L.T.R. or Linear Tunable Roller cable guard system. This adjustable cable guard not only lets you adjust for fletching interference but it also gives you yet another tool in which you can control bow torque/arrow flight.
In most cases, you probably won't have to adjust the L.T.R. system, but if you need it, its there. Just another bonus.
Our Analysis of the Elite Kure
Okay, now it's time to put the Elite Kure to the test. We are going to look at delivered vs advertised draw lengths and speeds, the draw force map, and how well it tunes.
Draw Length Accuracy
In Elite's Technical Manual for 2020, it clearly states that at 80% let-off, the Kure would deliver a 30 inch draw length when the mod is in position #1. For every position after #1, the draw length should decrease by 1/2 inch. We find this to be inaccurate.
While the draw lengths do typically decrease by 1/2 inch, we found that the draw length at position #1 was 5/8ths of an inch off coming in at 30-5/8 inches.
The closest we recorded to 80% let-off at a 30 inch draw length was actually at position #2.5 with the cable stop out two stops. There is where we saw a 79% let-off with a 30 inch draw length. In the chaos of all the new technology put into this bow, we believe that Elite somehow got their advertised draw lengths wrong. Here are a few of our recorded actual draw lengths and let-offs.
The complete draw length chart for the Elite Kure will be available on the Bow Shop Bible app. This chart will have every let-off and draw length for all 29 possible mod configurations (1, 1.5, 2, 2.5…..15). Results will be provided for cable stops and limb stops at every position. Tons of data!
Cable Stop
#1 = 88% let off / 31 inch draw – 73% let-off / 30-1/2 inch draw
#3 = 88% let-off / 30 inch draw – 75% let-off / 29-1/2 inch draw
Limb Stop
#1 = 84% let off / 31-1/16 inch draw – 66% let-off / 30-3/16 inch draw
#3 = 88% let-off / 30-1/4 inch draw – 66% let-off / 29-1/4 inch draw
Speed Test
The speeds of the Elite Kure seem to be off considerably. This may be due to the discrepancy in advertised draw lengths. We have found that the advertised IBO speed is inflated 5-10 lbs.
We shot an arrow through our chronograph with the cable stop set at maximum let-off (88%) while on mod position #3 which delivered a 30 inch draw length. We shot a 350 grain arrow while having a d-loop, brass nock, and peep sight installed. Per the advertised IBO speed, Software for Xperts (formally OnTarget2) reported that we should have seen a speed of 334 FPS. We recorded speeds of 324 FPS repeatedly. The room for error with our weight on the string is the reason we conservatively put the discrepancy at 5-10 FPS.
Draw Force Map
The draw cycle of the Elite Kure is pretty smooth. For a 30 inch draw length, during the actual 23-1/2 inch long draw, maximum draw weight is achieved at around 7.5 inches. Once at peak weight, it stays there for around 5 inches, which isn't bad at all compared to the competition. This draw cycle delivers on decent speeds without sending you to the shoulder doctor.
Tuning Test
The Kure tunes as well as any bow we have ever shot. The S.E.T. system really makes dialing in the powerstroke of the bow simple. By using the S.E.T. system, you shouldn't have any issues eliminating left and right tears resulting in perfect arrow flight. In addition to the S.E.T. system, the L.T.R. cable guard adds even more assurance that you'll perfect your arrow's flight. The S.E.T. system does such a great job, that we don't believe you'll even need to use the adjustable cable guard.
With our hunting setup, it literally took us 5 minutes and only a few adjustments to achieve perfect arrow flight. This is how we do it.

How We Tune our Elite Kure
Place a straight edge or arrow along side your cams and adjust the S.E.T. system until it is parallel with the bow string.
With a silver sharpie, make marks on the S.E.T.'s adjustment screws and adjacent riser.
Shoot through paper.
Adjust the S.E.T. screws equally in the direction indicated to resolve the rip if needed. Adjust 1/8 of a turn and repeat a paper tune shot.
Once you have achieved perfect arrow flight, you can make another mark on the adjacent riser surface for that particular arrow. This will allow you to change arrows for different situations and alway know where the S.E.T. system should be set.
Final Thoughts on the Elite Kure Compound Bow
The Elite Kure is the real deal. Packed full of new innovations, the Kure really delivers on tunability, feel and speed. We have shot many bows throughout the years and were excited when we received this bow. As you can see from our tests, it's a great performer and equally important, it is super adjustable for any archer.
If you're in the market for a bow that is forgiving, fast and super easy to tune, the  Kure is probably the bow for you. We strongly advise trying this bow out; you'll be glad you did. For more information, please visit https://www.elitearchery.com/.