The Mathews Halon 5, 6 and 7 are Mathews Inc.'s flagship bows for 2016. The Mathews Halon series uses Crosscentric Cams resulting in a semi concentric string payout. The Halon also uses Mathews Inc.'s AVS Technology resulting in a stealthy draw and excellent accuracy while delivering speeds exceeding 350 FPS. The Mathews Halon has a couple of new features including a new dual riser bridge (similar to Elite's Energy series riser), a new flat back grip (slightly wider than the focus grip) and wider, more rigid split limbs. The Halon has a true center nocking point which ensures perfectly level nock travel. Although the bow is up in weight compared to others, the Mathews Halon is rock solid. In this review, we are going to look at the Mathews Halon 5. Let's look at its specs.
Mathews Halon 5 Specs
Brace Height 5 inches
Bow Weight 4.6 lbs
IBO Rating up to 353 FPS at 75% let off
IBO Rating up to 349 FPS at 85% let off
Axle to Axle Length 30 inches
Our Tests on the Mathews Halon 5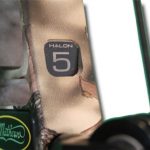 We ran our Halon 5 through a couple of test to measure how well it performed. We checked the speed with a chronograph, sound level with a professional digital sound meter, and attempted to paper tune with a properly spined arrow.
Mathews Halon 5 Speed Test
As Mathews Inc. says, the Halon bows are their hardest hitting flagship bows to date. How did they perform on our tests? We shot and recorded the speeds of an industry standard 350 grain arrow and the speeds of the arrow that we are going to use for hunting which weighed in at 380 grains. Our Halon 5 was set at exactly 70 pounds with a 28.5 inch draw.
350 grain arrow – 327 FPS @ 28.5 inch draw
380 grain arrow – 315 FPS @ 28.5 inch draw
Mathews Halon 5 Sound Test
After our first couple of shots, we noticed that the Mathews Halon 5 is a fast yet quiet bow. How quiet was it? Here are our results with our Mathews Halon 5 set at 70 pounds with a 28.5 inch draw shooting a 380 grain arrow.
Mathews Halon 5 Tuning Test
For our paper tuning test, we had our Mathews Halon 5 set at 70 pounds with a 28.5 inch draw. The arrow we decided to use was the Black Eagle Carnivore 300s (+/- 0.001″). Our shafts were cut at 28 inches and fitted with a 100 grain field point. The arrow, according to TAPS and OnTarget2 software, spines perfectly for our setup. Our rest was a QAD Ultra Rest LD drop away with centershot set at 13/16th of an inch off the riser.
Our first shot showed that we needed to move our arrow rest's centershot a little left and that our d loop had to move down. After a few minor adjustments, we were very satisfied with our results.
Our thoughts of the Mathews Halon 5
The feel of the Mathews Halon 5
Our first impressions of the Mathews Halon 5 were pretty good. For a 5 inch brace height speed bow, it was incredibly easy to draw. I actually had to put the bow on a bow scale to ensure myself that it was indeed set at 70 pounds and it was. The Halon 5 comes off as a little top heavy in the hand and we did notice at full draw there seemed to be a minor "built in torque" to the bow which initially made it awkward to hold. I thought the short axle to axle length was going to be an annoyance, but at full draw it felt pretty good; the acute string angle didn't bother me. The actual draw length measurement was a 1/2 inch longer than what it was supposed to be according to our draw board.
The Mathews Halon 5 is a speed bow. No matter the build, you're going to sacrifice forgiveness with such a short brace height bow. We did notice at full draw, the short axle to axle length of the bow coupled with the short brace height leaves you with a bow that is more difficult to hold steady. If your archery form is rock solid, this shouldn't be a problem; it's one of the prices you pay when dealing with a speed bow. As we got used to the bow and adjusted, we did notice much steadier shots.
Tunability and Performance in the Field
Having owned many speed bows in the past, I'll say that the Mathews Halon 5 was one of the easiest to tune. After our first paper tuning shot, we had to make two small adjustments and we were there, perfect rips. The effortless paper tune led us to well above average accuracy at the range. Our groups at 80 yards were well within an 8 inch circle.
While hunting with this bow, I had an opportunity to take a coyote at 77 yards. I drew back, fired and asked myself "what the hell just happened?!" Upon release, there was a loud thwack sound followed by a sizzling arrow. The string hit my hunting coat's sleeve. I forgot that with such a short brace height, its a necessity to wear some sort of arm guard to keep loose clothing from ruining a hunt. After the hunt, I went to my archery club, put on an arm guard and the problem was resolved. I'm just glad it was a coyote and not a big buck!
Overall, the Mathews Halon 5 is a good bow. Compact, fast and pretty accurate; definitely a great buy for close quarters hunting. It's always tougher to shoot a 5 inch brace height bow but another inch of powerstroke translates into more speed. That being said, we noticed that the Halon 6 is only 6 feet per second slower than the Halon 5. So is an inch less in brace height worth 6 feet per second? Thats for you to decide. For more information, visit the Mathews website.