Good boots are at the top of my list when it comes to hunting gear. They can be the difference between a warm, comfortable hunt and a hunt that will leave you cold and painfully walking back to the truck. What's the best hunting boots on the market? Tough question. There are so many different types of boots on the market these days and finding the right one for the job is essential. I don't think there is a "one boot fits all" out there, but some are better than others on versatility. Lets see what we thought of the Muck Pursuit Shadow.
Specs and features of the Muck Pursuit Shadow Hunting Boots
The Pursuit Shadow pull-ons features a forefoot support cage which adds stability to this rubber/neoprene hybrid boot. The CR Flex-Foam, fleece lining, along with the sockliner help to give this boot a -40° rating. These pull-ons also feature an EVA midsole and rubber outsole pods that will give you a quality grip in a variety of terrains. Let's look at the total features and spec list.
5mm CR Flex-Foam
Warm Fleece Lining
Spandura Upper
Forefoot Stability Cage
Sockliner
Lightweight Cushioned EVA Midsole
Aggressive Rubber Outsole with Optimal Traction
Rubber and EVA 3D Print for Support
Weight = 4 lbs.
Sizes = 7-15
camouflage = Realtree XTRA
Our thoughts of the Muck Boots Pursuit Shadow Pull-On Boots
So my first thought when I took them out of the package was "wow, they're pretty light"; not what I typically expect from this style boot. Weighing in at 4lbs they are definitely lighter than most of it's competitors. Most boots we found were around 5 lbs at this temp rating.
So I am ready for any hunt I wish to engage in, I like to have at least one pair of boots in the "silent-stalk" category. In the past, most Muck/Mud style boots had the reputation of being heavy, clunky, and cumbersome. They keep your feet dry but you're not going to run a marathon in them. After putting these boots to the test, I was pleasantly surprised and would have to say that Muck has come up with a design that is light and form-fitting.
Field testing of the Muck Pursuit Shadow Boots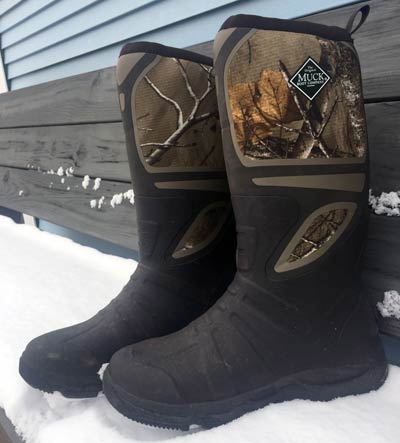 Upon picking up these boots, I was concerned they would not have good sole support being that they were so light. Good sole support for big guy like myself is important. No one wants to have issues whether they're in the flat midwest or the challenging Rocky Mountains, so I decided to put them through some tests. The first thing I wanted to do was a "blister" test so I put them on and took the dog for a run. I did about a mile in them and was surprised how they felt. No blisters and my feet really weren't fatiqued.
Over a span of a couple months, I put some miles on these boots. I exposed them to cold weather, ice, rain, and warm weather and will say this, they are really comfortable.
The Weight
You really notice how light they are, especially if you have previously wore some of the older versions of these boots. They really benefit from the Lightweight Cushioned EVA Midsole.
Some of the terrain I used them in was half frozen swamp; some gnarly stuff and tough on the feet. The Pursuit Shadow pull-ons went through lots of bending and flexing from falling through soft spots in the ice with mud beneath. The Forefoot Stability Cage seems to work well. I didn't have any support issues and being that they are good form fitting I didn't have any of those… well lets call them stuck in the muck, boot pulls halfway off problems either. So a plus/plus in that department.
The Interior
The inside of these boots are very stream line. The one thing I always notice with new boots, there is usually a seam that rubs your foot raw until they break in. I didn't have any rubbing or blistering issues with these. It's rare to find a boot without a break in period. The construction and craftsmanship of these boots look and feel excellent. There appears to be only one seam on the entire interior of the boot. It is in the ankle area and it's a nice low profile seem so no rubbing problems. The fleece Sockliner gives these boots a really good feel as well.
The Flex
I also drove with these boots. All the Muck/Mud style boots I have driven with in the past made my feet hurt from trying to bend at the ankle.  I usually don't, but I wore them doing some errands to see how they felt in a typical day to day environment. Not bad; the flexibility level is pretty good. The combination of 5mm CR Flex-Foam and Spandura upper really help the flexibility and comfort. I still wouldn't call them ideal for driving long distance, but if you work as a snow plow guy or you're out in a mud hole with your 4×4, these are as good as it's going to get with this style boot.
A big selling point for me is flexibility. I do a lot of ground hunting and flexibility is the key. I wind up kneeling or squatting for hours and if a boot doesn't flex in the ankle it really becomes uncomfortable quick. But even if you're a tree ninja, flexibility is important. I really thought they worked great for climbing. Sometimes it can be a challenge and unsafe to climb or use a climber stand with a mud boot. Since these boots provide excellent form fitting and are flexible, using a climbing tree stand was a breeze. So to recap; light, flexible, and great fit really make the Muck Shadow Pursuits excel over the competition in this department.
The Tread and Noise Level
I had my slippery moments on the frozen swamp, and as with any rubber boot, ice is a problem unless you have ice walkers or steel studs. In the mud and rain, these boots were solid. They have a nice aggressive lug on the bottom and very durable also. The lugs are well constructed and should hold up for many miles.
As far as noise goes, there was virtually none from the 5mm CR Flex-Foam and Spandura upper design. And you can really get a feel for what you're walking on when you're putting on a stalk. The Mucks scored pretty high on tread design and noise level.
The Temperature Rating
I had my concerns on the -40° to 40°F temperature rating. I have had many boots in the past that claim to be good for extremely low temps, but when you're sitting in a tree stand and it's below 0, it's almost impossible to keep your feet warm without movement or a heating device. I don't know about you, but I'm not going to be hunting when it's that cold unless I'm really desperate or it's life or death.
One day I did the usual couple mile hike to my tree and it was cold! Brutally cold, right at about 0°F and -15°F with the windchill. The wind was really whipping and I was instantly rethinking my decision to hunt this day. I wore a pair of Redhead brand heavy wool socks with these to see how these boots would perform on a day your ordinarily wouldn't leave the house. The Pursuit Shadow Pull ons performed good on the walk in, but once I was sitting in that tree for a little over 2 hours, the cold was starting to set in.
I would say they did perform better than most boots and this was also without a heating device. After about 2 1/2 hours in I decided to call it quits. This wasn't on the account of the boots but rather my entire body was cold. I got down from the tree, packed up my stand, and a 100 yards into my hike back that heat came back to my feet. Movement is key to staying warm no matter what kind of boot your wearing.
Summary of Our Experiences With the Muck Shadow Pursuits
Overall these boots performed excellently for their weight. On my warmer hunts in 15°- 35°F temperatures, I had no issues of getting cold feet while in the stand. The Shadow Pursuits do have a tight collar on top that seems to retain more heat. I would imagine it helps with scent control too. The only thing I don't like about the collar is that it's tight and makes it a little more difficult to put the boots on. Personally I would be happier with a short zipper or drawstring at the top, but that's not a deal breaker for me with these boots.
I think far as the temperature rating goes the people at Muck Boots are a little generous. If you plan on going out in sub zero temperatures, you'll be fine if you're moving occasionally. I wouldn't plan on a 4 hour sit in the tree stand unless you have heated socks or feet warmers. That being said, I would still rank them high regarding temperature range for their weight and in their class.
Overall I think the Muck Boot Company's Pursuit Shadow scores pretty high against the competition. They are light, flexible, and have good support. They do a great job of keeping your feet warm at a range of temperatures. I like the direction Muck is going with these boots. Their newer boots are becoming very versatile and who knows?…. Maybe one day there will be a "one boot does it all" out there. For more information, give the Muck Boot Company a visit at http://www.muckbootcompany.com.
Muck Boots Pursuit Shadow Scores
Break-In Period

Weight

Interior build

Flexibility

Overall Comfort

Temperature Rating
Summary
Other than an industry standard faulty temperature rating, the Muck Boots Pursuit Shadow Pull-Ons are an excellent pair of hunting boots.
Comments Rating
( reviews)