We just attended the ATA Show 2015 for the first time and were blown away. What a huge show! Indianapolis did a great job with the event and definitely raised the bar for Louisville which is the location for the ATA Show in 2016.
What is the ATA Show?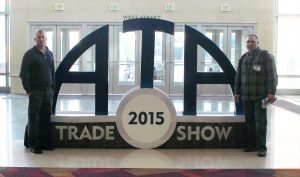 ATA stands for Archery Trade Association. Every year in January, the ATA hosts this show primarily for dealers to meet manufacturers, look at products, and to place orders. The show is closed to the public. As you could imagine, if the show was open to the public, the purpose of the show (making new proshop orders/deals) would be defeated. Every manufacturer under the Sun attends the show (except Mathews) along with hunting show personalities and some celebrities.
New products – ATA Show 2015
The ATA Show is the place to showcase new products to potential buyers. We saw anything from new broadheads to motorized deer targets. Stay tuned for our upcoming new posts on new products. We will break it down into categories and have plenty of pictures.
For more information regarding the ATA (Archery Trade Association) and ATA Shows, please visit their website at http://www.archerytrade.org/