A good flashlight is a must have for any serious hunter. It can help you to not only stay safe out in the field but is instrumental in finding downed game. Not all flashlights are created equal though; some may have a high dollar brand name but they don't really outshined the lesser known competition. Enter the Armytek Dobermann Pro XHP35 HI Flashlight. We used this affordable flashlight last deer season. Let's take a look at it's specs and see what we thought of it.
The Specs of the Armytek Dobermann Pro XHP35 HI Flashlight
The Dobermann Pro XHP35 HI Flashlight is a power packed and compact flashlight that is a great tool to have in the field. Here are the specs.
Cree XHP35 High Intensity LED
417 yard range
1580 lumen output
Hotspot at 4° and a 40° coverage area
5.5 inch length
1 inch body diameter/1.34 inch head diameter
Weight without batteries = 7 ounces
Material = Aircraft grade aluminum
Color = matte black
Operating temperature range = -13f to 104f
1 hour battery life on max power/200 day battery life on minimal power
Submersion rating is 5 hours at 164 feet
As you can see, the specs on the Dobermann Pro XHP35 are impressive. In comparison to the Streamlight Protac HPL, the Dobermann Pro offers 580 more lumens and is $20-$40 cheaper. Let's see how the Dobermann Pro XHP35 HI did in the field.
Field Testing of the Armytek Dobermann Pro XHP35 HI Flashlight
The Armytek Dobermann Pro XHP35 HI is a tactical style flashlight. This compact durable flashlight is constructed from aircraft-grade aluminum. I field tested the Dobermann over a three month period during the Northern Illinois Deer archery season. It is capable of using different modes and settings, however, I just used the default hunting mode for my experience.
This flashlight is very packable due to its compact size. Whether you carry it in the holster, cargo pocket, fanny pack or in your jacket pocket, it takes up limited space. I was pleasantly surprised how bright this light was. At 1580 lumens and a beam distance of just under a quarter mile, this flashlight was very effective in the woods and field. I successfully blood trailed 2 deer and 1 coyote using the Dobermann Pro XHP35 HI. Anywhere from locating a drop of blood to scanning ahead in the field, it did the job well. The tail cap switch allows you to press in half way without completely engaging the light. This feature helps if you want to get a quick glimpse of what lies ahead or if you want to send a light signal to a buddy.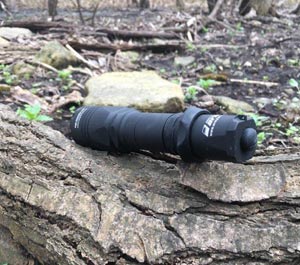 Hunting in the cold, snow, and rain did not affect the use of the Armytek Dobermann Pro XHP35 HI at all in my experience. Temperatures during my usage ranged from 10-50 degrees Fahrenheit. I dropped the flashlight 2 times out of the tree stand. After a 20 foot fall on to a frozen surface, the light worked fine. Other than rain and snow, I dropped and fully submerged the light in a creek for a good 5 seconds before pulling it out. The light remained on and I continued to walk. After getting home I wiped it down and took it apart. The Dobermann had no moisture penetration.
Summary of the Dobermann Pro XHP35 HI
I would estimate approximately 10 hours of usage on the original set of batteries and they are still going strong.
Overall, I was happy with my experience when I put this flashlight to the test. I am looking forward to using this flashlight on my elk hunt in the Rocky Mountains this fall. Two suggestions I would give to a fellow hunter are:
Put either a band of reflective or fluorescent tape around the flashlight handle. Dropping a black compact flashlight in the woods while it is off, can be a challenge to locate.
Always slightly unscrew the tail cap 1/4 while storing or carrying. This will avoid accidental switching on and preserve the life of the battery.
For more information on the Armytek Dobermann Pro XHP35 HI, visit their website at https://www.armytek.com.