I was disappointed when Horton Crossbow went under. They made some of the finest crossbows in the industry, and they were at the top of their game. When TenPoint bought the assets, I thought Horton was done for. Imagine my glee when TenPoint revived it as Horton Crossbow Innovations. Let's look at the Horton Storm RDX and see how it fares compared to the competition.
The Facts, Please
Draw Weight: 165 lbs.
Power Stroke: 16.5″
Velocity: 370 fps
Kinetic Energy: 122 ft/lbs.
Length: 35.25″ (with foot stirrup)
Axle-to-Axle Width: 15.5" uncocked, 10" cocked
Overall Weight: 8.2 lbs. (without accessories)
Pros
Very fast and powerful
Extremely quiet
Fantastic center-of-gravity
Cons
Somewhat heavy
Scope isn't properly calibrated for the speed
Expensive investment
First Impressions Do Count
When I unboxed the Horton Storm RDX, I was immediately impressed. This is a gorgeous x-bow, and the reverse-draw technology makes it look lean and mean. The limbs drawing backwards of your traditional compound crossbow also helps tremendously with center of gravity, from my experience. The butt plate and cheek plate are adjustable, so you can get a true custom feel when you shoulder your x-bow.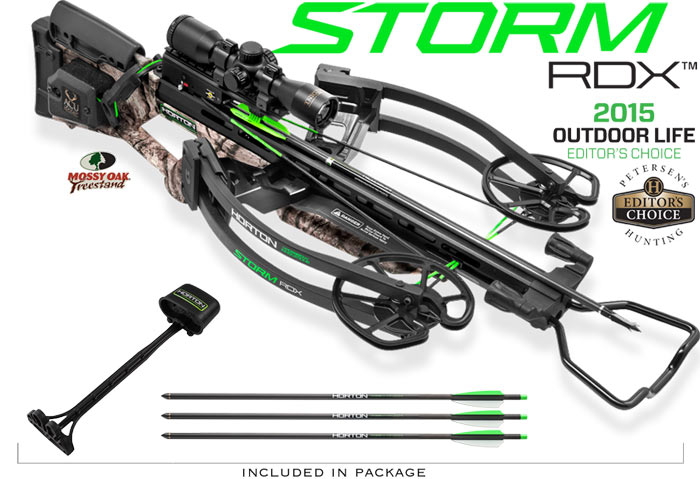 Assembling the Horton Storm RDX
When you buy any reverse-draw crossbow from Horton Innovations, you don't have to do much assembly. What you do need to do is pretty straightforward and easy. Mount the scope to the dovetail mount, attach the string stop block and foot stirrup to the riser, and you're good to go. The instructions do a good job of explaining this.
Sighting in the Crossbow
The first thing you have to do after assembly is sight in your scope. This is typically an easy process with a good quality scope, and the included TenPoint 3X Pro-View x-bow scope is one of those. Unfortunately, the glass is designed for crossbows that shoot arrows at around 330 fps, and the Storm RDX blows that speed right out of the water. That means the markings don't line up quite right for 50-yard shots. Once you find the sweet spot, you're golden, but you still might consider a scope adjustable for velocity.
Power and Accuracy Are an Important Combination
What you really want to know is how powerful and accurate the Storm RDX is. Well, let me tell you, I was impressed, once I got the scope sighted in properly. Close range shots were no problem, and I was able to lay out half-inch patterns from 25 yards. Moving to 50 yards, I had to figure out where to line up my shot between the markings, but once I did, I discovered the x-bow was amazingly accurate. For the record, I was aiming between the 30- and 40-yard markings to get a good pattern from 50 yards out. Your mileage may vary, though.
As for accuracy, the Storm RDX deals out 122 foot-pounds of kinetic energy. That's more than twice what you need to tackle the toughest, biggest game. Grizzly hunting, anyone?
The Quality of the Scope
Despite its deficiency when it comes to proper yardage markings, this is a pretty good scope. It's nice and bright, but non-illuminated. I would have loved to see this puppy come with an illuminated scope, but that rarely happens nowadays. It's still going to be fantastic for close-range hunting, and acceptable for longer shots, once you find the sweet spot between the yardage markers.
Hunting with the Storm RDX
Set up with a proper illuminated scope, this baby is a hunter's dream. It's fast, powerful, and very quiet. Thanks to the reverse-limb technology, it's also slim enough that you'll be able to use it in spots you could never fit a crossbow before. If you love shooting from two-person ground blinds, you'll have no problem with the Storm RDX, especially if your buddy has the same x-bow. Even though this is a heavy x-bow, the center-of-gravity is fantastic and you won't notice much front heaviness when you shoot.
The Included Arrows
When you purchase the Horton Storm RDX, you'll get a trio of 20" Horton Victory carbon arrows. The Victory arrows work great with this x-bow, standing up very well to the abuse any 370-fps crossbow is going to deal out. If you decide you need more than three arrows, make sure you stick with good 20" ones that can handle plenty of speed and power.
Final Thoughts
The Horton Crossbow Innovations Storm RDX is one of the finest crossbows on the market. It definitely won't let you down, once you get used to (or replace) the included scope. It's powerful, fast, and stealthy. Plus, it's almost ridiculously narrow. I just wish it was a tad bit lighter. For more information, visit https://www.hortoncrossbows.com.