What if I told you there was a bow on the market that possessed practically zero lateral and horizontal nock travel, delivered an IBO 330 FPS speed with a forgiving 7 inch brace height, came with a lifetime warranty, free bowstring/cable replacements every two years, and included a free tuneup after six months? Would you check it out? Of course you would! In this review we are going to take a look at the Prime Logic by G5.
Last year, G5/Prime introduced the Centergy. The Centergy offered a well balanced center grip bow that enabled archers to hold longer and steadier on target. The Centergy also delivered on almost perfect vertical and horizontal nock travel (torque) resulting in a bow that was the easiest to tune in its class. For 2018, the engineers at G5 decided to improve on an already great design and created a bow that offered everything that the Centergy did but in a slightly shorter, more hunter friendly package. They created what we believe to be the best bow of 2018, the Prime Logic.
Prime Logic Specs
IBO Speed: 330 FPS
Axle to Axle: 31″
Brace Height: 7″
Weight: 4.3 lbs.
Draw Weights: 40, 50, 60, 70, and 80 lbs.
Draw Lengths: 24.5″-30″
Let Off up to 80%
The Build of the Prime Logic
You will be hard pressed to find a bow that has the level of engineering and perfection built into it like the Prime Logic. Let's take a look at some of the features of the 2018 Prime Logic.
The 82X Prime Logic Riser
Compound bow accuracy starts off with a solid foundation in the form of a well designed riser. Although archers can't sense it during a shot, the riser of a bow does flex during the draw cycle and during during the power stroke of the shot. When it flexes, the cams change linear orientation as well. How does this affect the shot? The answer is induced torque or lateral nock travel.
The engineers at Prime have minimized lateral nock travel by design. The Prime Logic's 82X aluminum riser is the strongest in the industry. To compliment the toughest aluminum alloy available, Prime added the "swerve" to the lower half of the riser. The swerve offsets the offset sight window allowing symmetrical flexing of the riser and improved rigidity.
For maximum accuracy and ease of holding the bow on target, the Prime Logic also utilizes center grip technology. With the bow's grip being located in the physical center of the bow, archers can hold much more steadily on target for longer periods of time. This, of course, leads to increased accuracy but does present more of a nock travel obstacle to overcome. How did they eliminate nock travel with this center grip bow when others have failed? With their PCS or Parallel Cam System.
Prime Logic's PCS or Parallel Cam System
The PCS cams are wide based, dual track cams that are designed not to lean like narrower cams. To combat undesired vertical nock travel, Prime made the cams different sizes. By designing the top cam slightly larger than the bottom cam, the PCS cams are able to achieve perfect bowstring payout which results in zero nock travel and adds to the ease of tunability.
The Flexis AR Cable Guard System
Not that it needs it, but even the cable guard is adjustable which allows for more precise tuning. In the past, if a bow didn't have a yoke system, the only means of adjustment were to either roll the offset cable guard or to physically move the cams spacers. No need for that with the Flexis AR Cable Guard System. If for some reason you're not getting your desired arrow flight, just adjust the Flexis AR and microtune your bow to perfection.
Our Analysis of the Prime Logic by G5
We ran our Prime Logic through a series of tests to see how well it performed. We tested the actual speed vs advertised speed, plotted the draw force curve, measured the sound of the shot (with a 350 grain arrow), looked at how easily it tuned and investigated lateral and vertical nock travel during the power stroke. Let's take a look at the results.
Prime Logic Speed Test
For our speed test, we had our Prime Logic set at the following specs:
70 lbs. of draw weight
28.5 inch draw length
350 grain arrow
4 grain D Loop installed
8 grain peep sight installed
2 grain brass nock installed
Before we even sent an arrow through the chronograph, we entered all our data into SoftwareForArchers Xpert V2.5.26 to see what the estimated speed would be. According to our program, we would have an arrow traveling at 308.62 FPS. As you can see in the picture, the Logic was spot on, registering 309 FPS on every shot. This is a rare occurrence due to most bow's having an actual draw length different than the advertised draw length. Not with Prime though; they don't alter numbers in their favor and in comparing with our archery software, it shows.
Prime Logic Draw Force Map
Displayed below is the draw force curve for the Prime Logic. This bow doesn't mess around; it gets to the max draw weight rather quickly and rides it for almost 8 inches. This results in a little bit of a more demanding draw, but the resulting arrow flight is worth it. I had a bicep tenodesis performed on my right (drawing shoulder) 7 months prior to this test and I didn't have any issues with the overall draw cycle.
Prime Logic Sound Test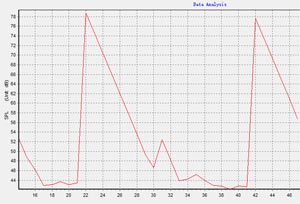 For our sound test this year, we set up the Logic for a 70 yard shot. The following accessories were installed:
Spot Hogg Hogg-It 7 pin sight
S-coil stabilizer
Bow Sling
QAD HDX Rest
After the bow was dialed in for 70 yards, we set the professional sound meter 12 inches in front for the bow and recorded a couple shots.
The results averaged out to about 78 decibels. In comparison to a few other bows we have tested in the past, the Prime Logic was 11 decibels quieter than the Halon 5 and the APA Mamba 32TF.
Prime Logic Tuning Test
The tunability of the Prime Logic is by far it's strongest attribute. This bow was engineered for accuracy but how would it perform at a short axle to axle measurement of 31 inches? It performed great! Just after a few tweaks, we had the bow not only ripping great through paper, but were stacking bare shafts on fletched arrows at 20 yards.
This accuracy is what Prime is becoming known for. It's quite simple; a center grip allows for a steadier hold and if you eliminate lateral and vertical nock travel, the powerstroke of the string will stay on center. Driving the arrow perfectly straight out of the gate eliminates a lot of messing around. The only thing we noticed was that our centershot ended up being a little closer to the riser than the suggested 7/8 of an inch. No biggie; it's a tack driver.

Prime Logic Torque/Lateral Nock Travel Test
In the following videos, you will see how the bow performed in Joe Marzullo's torque or lateral nock travel test as well as slow motion footage of the actual shot from different angles. At 1,000 frames per second, it's clear that the engineers got it right with this bow.
The Prime Logic's Vertical Nock Travel
Here is some slow motion footage from the side of the Logic being shot at 1,000 frames per second. You can see how level the nock travel is. One neat thing to takeaway from this video is that the QAD drops so fast that the tip of the arrow actually noses down a bit. This could prove to be a good argument for a limb driven rest, but that's a debate for another day!
Our Thoughts on the Prime Logic Compound Bow by G5
In conclusion, we think that if you are in the market for a new bow this year, you should definitely give the Prime Logic by G5 a shot. It has the deepest level of engineering invested into it and it shows via accuracy. The Logic continues the center grip steadiness and accuracy of the Centergy but in a shorter, more hunter friendly package.  Whether you're hitting the Rockies for elk or squeezing into a turkey blind, we are confident that you'll be happy with the Prime Logic. To top it off, you're buying from a very reputable company that values every customer.
Prime is not only a truthful group with their equipment's specs, but they also stand behind their product. Their bows are made in the US and come with a lifetime warranty, a lifetime of replacement strings and cables, a warranty rush service, a 100 cycle assurance program, and a free six month tune up at your local Prime dealer. For more information on the Prime Logic, visit their website at https://www.g5prime.com.