The 2017 ATA Show in Indianapolis, Indiana featured many new products related to the archery and bowhunting industry. In our two days at the show, we worked at a frantic pace to cover as much as we could but unfortunately, we still didn't visit every booth. Let's have a look at what we did get a chance to check out.
The New Products of the 2017 ATA Show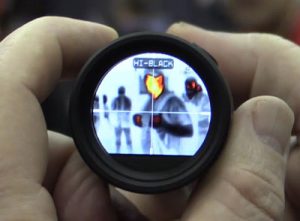 Have you ever wondered if you were going to spook any deer on the way to your treestand? Say goodbye to wondering and say hello to the Leupold LTO-Tracker thermal device. The compact (5.6 inches long) thermal imaging device weighs in at 10 ounces and delivers thermal imaging capabilities out to 600 yards (and beyond according to a few reports). The LTO Tracker has a 6X digital zoom, a 21° field of view and offers 6 thermal palettes to choose from. Whether you're trying to find downed game, scanning a pond for ducks on the way to the duck blind, or trying to find your lost dog at night, this pocket friendly thermal imaging device is going to be a big, yet affordable, hit in 2017. It retails for $699. For more information, visit https://www.leupold.com.
New from Wildgame Innovations is the Crush 360° Cam. This camera may change the whole trail camera market. For the first time, you can set a trail camera up and have a 360° field of capture. The Crush 360° Cam utilizes a rapid trigger speed and not only captures 12 megapixel images but also can record video in 720p. The camera is weather resistant and uses 8 AA batteries. No more being confined to viewing a small fraction of the wild game that enters your camera's area! For more information, visit Wildgame Innovation's website at http://www.wildgameinnovations.com/ .
When it comes to compact action cameras, GoPro isn't the only game in town anymore…. enter the Adventure Cam XPERT by UltraProX. This nifty little video camera offers what the competition does and then some. Very economically priced, the XPERT utilizes a 12 megapixel sensor and features such as motion detect which opens up many options while filming in the woods. Here are a few of the specs of this gem we discovered at this year's ATA Show:
2 inch HD display
still pictures up to 24 MP
FPV/Drone compatible
picture bursts up to 10 pictures per second
remote control with a smartphone via a free app
and more…
We can't wait to get our hands on one of these to see how it does compared to our HERO4 Silver! For more information visit their website at http://www.ultraprox.com/.
Rinehart Bag and Pyramid Targets
New for Rinehart in 2017 is the Rhino Bag lineup and the Rinehart Pyramid. The Rinehart Rhino Bags have improved on the typical bag target by adding a polyester skin around the bag which not only allows for high definition print quality, but also protects the inner polypropylene layer from the sun's UV rays. This bag should outlast the competition and dominate that part of the target market. The Rinehart Pyramid is a handy little "camp target" that is extremely portable and offers 4 sides to shoot at while still being composed of the high quality Rinehart self-healing foam. For more information on these and other Rinehart products, please visit their website at https://www.rinehart3d.com.
The Spinning Insert from Ethics archery is an innovative arrow component that allows the arrow shaft to spin separately from the broadhead.
The benefits (according to the manufacturer) of the Ethics Archery Spinning Insert are:
increased arrow shaft spinning which leads to improved accuracy
flatter arrows due to the resulting additional lift in flight
faster arrows down range due to the arrow shaft not having to rotate the broadhead while it spins
greater penetration due to increased downrange speed and the isolated spinning of the broadhead
zero broadhead plane
For more information, visit their website at http://ethicsarchery.com/
The Hawk Crawler Deer Cart is a well built, versatile deer cart that can do what other carts can't…… climb over logs. The 4 tire build not only adds stability but also allows the tire pairs to swivel independently on the central axle. When a tire hits an obstruction, it is free to maneuver however necessary to overcome it while not fighting the rest of the deer cart.
It retails for $149.99 and should be a big hit in 2017. For more information, visit http://hawkhunting.myshopify.com/
If you're a target archer, being confident in your release can mean all the difference. New for 2017 is the Truball Fulkrum Flex and Abyss Flex.
The Fulkrum Flex is a triggerless back tension release that offers more adjustability and a nicer ergonomic feel than its predecessors. The release head and finger piece orientation can be customized to allow any archer to find their sweet spot during the shot cycle. The sear head is also adjustable via an onboard adjustment tool which enables archers to make slight but necessary adjustments on the fly. Every Fulkrum Flex release includes a 3 and 4 finger piece right in the package. This may be the go to pure back tension release for 2017.
The Abyss Flex is a thumb trigger release that went through its fair share of upgrades as well. One of the most notable changes are the adjustable finger piece (30° of radial rotation) and the utilization of an trigger tension adjustment screw. For more information on these and other Truball releases, visit their website at http://truball.com/.
The Scott Archery Echo release is a dual/single caliper hybrid that utilizes Scott's Hyper Jaw design. With the Hyper Jaw design, Scott Archery's engineers delivered a release that has independant jaws that work in perfect synchronization resulting in zero lateral torque when executing a shot. The Rolling Trigger System is fully customizable (pulling pressure) and delivers the smoothest trigger pull of any Scott release. For more information on the Scott Echo release and other Scott Releases, visit their website at http://www.scottarchery.com/.
The Cirrus Wind Indicator is a rechargeable wind indication system that releases a scent free vapor that can indicate the slightest wind current. The Cirrus Wind Indicator is small enough to fit in any pocket and can deliver up to 1,400 puffs out of a single cartridge. This season, if you want a leg up on changing wind patterns and thermals, you might want to give the airplane friendly Cirrus Wind Indicator a try. For more information, visit https://www.cirrusoutdoors.com.
The Steady Form Elite Anchor Point system is an attachment that fixes to your bow and leaves your holding forearm with a point of contact. This additional anchor point should add stability and increase accuracy. Although not legal to use in many competitive archery events, the Steady Form Anchor Point should eliminate many poorly executed shots in the field. For more information on the Steady Form Elite Anchor Point, visit their website at http://www.steadyform.com/.
2016 ATA Show – Louisville, Kentucky
These strong, lightweight, multipurpose big game field dressing/skinning knives are some of the best on the market. The two part RaptoRazor big game skinning system includes an unbelievably sharp and durable skinning hook and the Mako skinning blade. The knives include interchangeable blades and make quick work of skinning the toughest big game animals. For more information, visit their website at http://www.raptorazor.com/.
The RaptoRazor Field Dressing/Big Game System
As the father of a two young girls, this product really grabbed my attention. Reading books to our children is a daily routine, but like most parents, our choices are limited to anything Disney or similar fairytale stories. As an outdoorsman, I knew I'd have to eventually introduce my children to hunting and the harvesting of animals, but wasn't exactly sure how to do it in a manner that would entertain them. With the Drake's Adventures series of books, this problem is solved.
When I discovered these books and met the creators Keith and Steve at the 2016 ATA Show, I knew they had something special. To my knowledge, these books are the first of their kind. They are an excellent way to educate children on hunting and the outdoors in an effective storybook manner. Do they work? Do they keep, in my case, a 2 1/2 year old's attention? You bet they do. My daughter can't get enough. We are really looking forward to the release of their third book "Cattail Point", a book on duck hunting. For more information visit their website at http://www.drakesadventures.com/.
Drake's Adventures children's books
Leupold Vendetta 2 Archery Rangefinder
Back by popular demand in 2016 is the Leupold Vendetta Archery 2 Rangefinder. The Leupold Vendetta 2 attaches to any compound bow or crossbow and displays target yardages in real time ensuring that an accurate, ethical and lethal shot is delivered. In comparison to earlier models, with one press of a button the Leupold Vendetta 2 features a 45 second continual scan that displays ranges while in a shot process. I believe rangefinding your game before your shot is crucial and the Leupold Vendetta 2 makes it easier than ever. For more information on the Leupold Vendetta 2, visit their website at https://www.leupold.com.
The Leupold Vendetta 2 Rangefinder
Muck Boots
New for 2016 from The Original Muck Boots Company are the Muck Boots Pursuit Shadow Tall and the Muck Boots Pursuit Shadow Pull On. The Muck Boots Pursuit Shadow is an all new packable and lightweight boot that was designed to reduce fatigue while still delivering stability and comfort. Featuring the new EVA mid and Pod outsole, these lace-up boots will be a great choice for tough, wet terrains and long hikes or stalks. All these new features along with Muck's Inscentable scent-masking barrier will make these boots a popular choice for many hunters in 2016.
Constructed with 5mm CR Flex-Foam and with a -40 degree rating, the Muck Boots Pursuit Shadow Pull On will be a great choice for cold weather.  This boot features a warm fleece lining, an agion antimicrobial treatment, Muck Boot's Inscentable scent-masking treatment, and a resilient foot cage for stability. This boot should be a great choice for the late season hunter. For more information on these boots, visit their website at http://www.muckbootcompany.com/.
The Muck Boots Pursuit Shadow Tall
Primos Trail Cameras
For 2016, Primos decided to really upgrade their trail camera products and released the Proof Series of trail cameras. The Primos Proof Cam 01, Primos Proof Cam 02, and the Primos Proof Cam 03 all feature improved capabilities in comparison to Primos's previous camera lineup.
The Primos Proof Cam 01 takes 10 MP photos, contains 36 850nM low glow LED's and has a 70 ft range at night. This economy model has a 0.7 second trigger and offers HD video and timelapse footage as well.
The Primos Proof Cam 02 is the middle of the road model that delivers great specs at a decent price. The Primos Proof Cam 02 takes 12 MP photos, operates off 48 850nM low glow LED's and has an impressive 100 ft range at night. The Primos Proof Cam 02 also offers HD video and HD time lapse functionality.
The Primos Proof Cam 03 is a 12 MP camera that has 60 940nM Blackout LED's that deliver an undetectable night time flash. The Primos Proof Cam 03 has an 80 ft night time range with a trigger speed of 0.4 seconds. The Primos Proof Cam 03 also takes HD video and HD time lapse photos which get converted into an HD video.
All trail cameras in the Primos Proof lineup come with a 1 year warranty and have a battery life of 9 months. Throw in the compact design and the fact that they can be locked to a tree with a cable lock and we believe that the Primos Proof Cams may be the best trail cameras of 2016. For more information on these cameras, visit their website at http://www.primos.com/.
The Rambo Bike
The Rambo Bike is a mountain bike on steroids! Designed for the hardcore hunter, this bike will get you where you need to go minus the sweat.
This 9 speed all-terrain asskicker of a bike runs off a 48 volt, 750 watt motor that will take you up to 19 miles without pedalling. Utilizing high quality components like Shimano gears, SRAM ball bearing disc brakes, a 10.4 amp hour lithium battery, and an aluminum alloy 6061 frame, this bike is an investment that will last. Wouldn't it be nice to be able to beat other hunters to the hot spot at 20 MPH on a stealthy smooth ride? If you answered yes and want more information, visit their website at https://rambobikes.com.
Test driving the Rambo Bike
Dog Bone Antler Retrieval Training System
The Dog Bone Antler Retrieval Training System is a 3 step system that effectively will train your dog on how to retrieve shed antlers. The soft dog bone retrieving antler won't hurt your dog and will teach your dog the shape and color of a real antler. Add Dog Bone's antler scent to the retrieving antler and work on some blind retrieves until your dog is successful. After this stage, start using a real antler along with Dog Bone's scent. This proven system has landed this product in retailers such as Bass Pro Shops. For more information visit their website at http://dogbonehunter.com/.
Cuddeback Cameras
New for 2016 from Cuddeback Cameras is the Cuddeback IR. The Cuddeback IR was designed to deliver the well respected Cuddeback quality at a low price point that most hunters can afford. The compact Cuddeback IR operates off 8 AA batteries, has a battery life of up to 6 months, and comes with a 1 year warranty. If you register the camera online, Cuddeback will extend the warranty to 2 years. The Cuddeback IR has a trigger speed of 0.5 seconds which is the fastest speed on the market in its price range. The Cuddeback IR takes 8 MP pictures, has 24 infrared LED's for night shots, and has a nighttime illumination range of 50 feet. The Cuddeback IR, which takes both videos and pictures, should be a big hit in 2016 due to its affordability and quality. For more information, visit their website at http://cuddeback.com/.
The AccuBow Archery Training Device
The AccuBow is a bow that utilizes an adjustable elastic tube, laser, and aiming cards to help archers perfect their form and aim. Simply adjust the bottom cams poundage dial to your desired holding weight, draw back and hold the laser on the target cards. You'll really feel which muscles need to be built up after holding for a while. This would be a great product for archery instructors and most archery pro shops. For more information, visit our article on the AccuBow.
Tactacam Video Camera System
Tactacam is a hunter friendly, revolutionary product that delivers stunning video in a manner that smokes the competition. Unlike the GoPro cameras, the Tactacam is catered towards the hunter. It's 3X lens brings animals properly into the video's frame while the 1080p resolution will let you relive your hunts in stunning high definition. Easily mounted to any bow or gun and operated with the simple press of a button, the Tactacam is a must have for both professional and amateur hunting videos. For more information, visit their website at https://www.tactacam.com/.
Kwikee Kwiver
New for 2016 is by far the lightest quiver ever created, the Kwikee Kwiver Air. With a release date in the next couple of weeks, the Kwikee Kwiver Air quiver is offered in 3,4,5 and 6 arrow models. These new quivers weigh in at anywhere from 5-7 ounces. That is not a typo…. five to seven ounces. They are going to be offered in flat and curved models and will grab the arrow in two spots which is essential if you hunt with mechanical broadheads. Due to its ultra-light weight and durable design, we think the Kwikee Kwiver Air may be the best selling quiver of 2016. For more information, visit their website at http://www.kwikeekwiver.com/.
Whitetail'r SD Card Readers for Smartphones
Most successful big game hunters utilize trail cameras to increase their success rates. One of the issues encountered has always been how to collect the data from these cameras without having to replace the cards while in the field; that problem is solved with the Whiteatil'r PhoneREAD'R systems. These card readers simply plug into most Samsung smartphones or transmit the data via a wifi connection on iPhones. Built for the sportsmen, the rubber case of these SD card readers ensures debris can not enter the data ports unlike the competition.
Whitetail'r has also developed a new innovative camera scope that can be used with tablets like the ipad. This product will come in handy for checking out gun barrel riflings/components as well as many other applications not related to hunting. For more information on all Whitetail'r products, visit their website at https://whitetailr.com.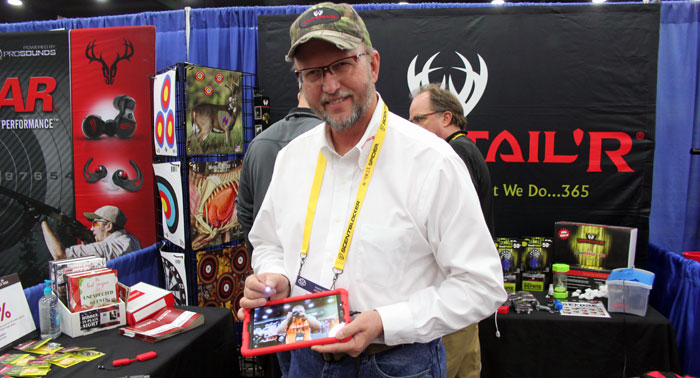 Havalon Knives
New for 2016 is the Havalon Evolve. The Havalon Evolve is the first multi-tool that features replaceable razor sharp quick change blades. Created and endorsed by Jim Shockey, this multi-tool is a must have for an outdoorsman.
Also new by Havalon is the Havalon Forge. This rubberized handled knife features Havalon's Quik-Change blade system ensuring a great grip in slick situations and scalpel sharp blades. For more information, visit their website at http://www.havalon.com/.
SKB Cases
If you have been a bowhunter for years, you know that SKB is the Cadillac of bow cases. New for 2016 is the SKB 3i-4719-PL bow case. This case can be used as a single or double bow case and offers unparalleled customizations. This lockable and durable bow case is an excellent choice for the travelling hunter or competition archer who cares about their equipment. For more information on SKB Cases, visit their website at http://www.skbcases.com/.
Turkey Fan
The Turkey Fan is an umbrella like realistic turkey decoy that has really delivered in the field. Lightweight and extremely portable, the Turkey Fan features cutouts for viewing and for an optional video camera. If you can locate a gobbler, they claim the Turkey Fan will lure him in. For more information, visit their website at http://www.turkeyfan.com/.
NAP Arrow Rests
New for 2016 is the NAP Apache Crossfire arrow rest. The NAP Crossfire has jumped in the ring to offer a full containment "lock-up" style arrow rest similar to many QAD and Ripcord rests. Built to function in any extreme weather condition, this rest should do well in 2016. For more information, visit their website at http://www.newarchery.com/.
QAD Arrow Rests
New for 2016 from Quality Archery Designs is the QAD Ultra-Rest MXT.
The QAD Ultra-Rest MXT is a micro-adjustable arrow rest that will be available in May or June. It offers some of the best adjustability on the market. With 1 click equalling 1/2000th of an inch (1 complete revolution = 1/32nd of an inch), precise tuning is easily achievable. Utilizing a new ABS (anti-backlash system), clicks are guaranteed to be accurate and true throughout the life of the arrow rest. This rest features a positive locking dovetail track ensuring no slop or movement after the adjustments are locked down. The QAD Ultra-Rest MXT was designed to be used with any bow on the market without the use of spacers or additional equipment. Other improvements this rest offers are a more ergonomic thumbwheel, a capture bar that moves with the rest's housing and an improved timing core channel that eliminates virtually any timing cord frays. For more information on QAD arrow rests, visit their website at http://www.qadinc.com/.
The QAD Ultrarest MXT
Antler Action Remote Rattle
Designed by accomplished hunter Mark Hammer is the Antler Action Remote Rattle. This ingenious and realistic rattling device allows the Antler Action Remote Rattle to be located on your hip or in a remote location thanks to its pull cord action. Big bucks don't fight up in trees so by securing the Antler Action Remote Rattle on the ground, you can achieve rattling realism that wasn't possible before. As seen in the photo to the right, this system works. If you like to rattle during the prerut and rut, this product might make the difference for you. For more information, visit their website at http://www.antleractionproducts.com/.
The Antler Action Remote Rattle
Montana Decoys
Endorsed by and designed for hunters like Fred Eichler and Ralph and Vickie Cianciarulo are the Montana Decoys. These lightweight, portable decoys feature excellent photorealism allowing you to get closer to game. The quick setup and portability of Montana decoys is ideal for spot and stalk applications. For more information on Montana Decoys, visit their website at https://www.montanadecoy.com/.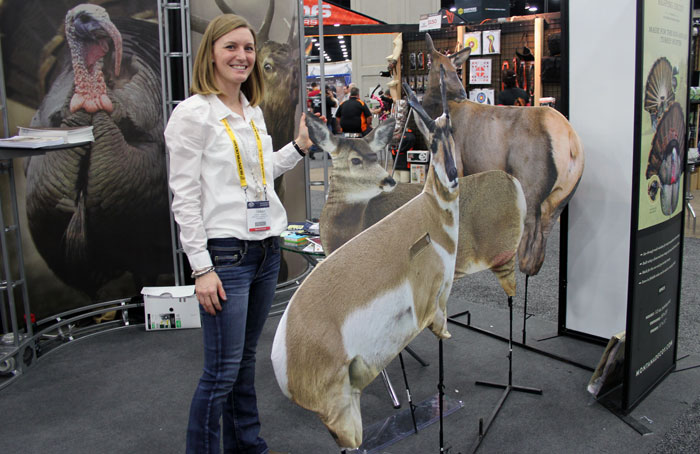 Vortex Optics
Available in 2016 is the Vortex Ranger 1500 and the Diamondback Binocular. The Diamondback Binocular was one of the best selling binoculars of 2015 and is back with some nice improvements. The Diamondback Binoculars feature lenses that are now fully multi-coated with a phase corrected coating delivering the highest quality viewing in a variety of lighting conditions. The updated chassis is more ergonomically designed and has a sleek new look. If you're in the market for great binoculars at a reasonable price, give the Diamondback Binoculars a try.
With a range of 1,500 yards is the new Vortex Ranger 1500 rangefinder. The Vortex Ranger 1500 delivers angle compensated readouts via an illuminated display. The display is fully customizable with 3 brightness settings. The Vortex Ranger 1500 has a very user friendly yet functional menu and should be a big hit in 2016. For more information, visit their website at http://www.vortexoptics.com/
Tight Spot Quivers
The new Tight Spot Quivers for 2016 are lighter and fit tighter to your bow than ever before. Available in 3 or 5 arrow setups, the Tight Spot Quivers not only help to stabilize your bow but offer a quick draw delivery for a second shot if needed. The unique head of the Tight Spot Quiver allows for use with mechanical by nesting the mechanical broadheads tip while not deploying the blades. These quivers come in a variety of camo patterns. For more information, visit their website at http://www.tightspotquiver.com/.
Tight Spot Quivers