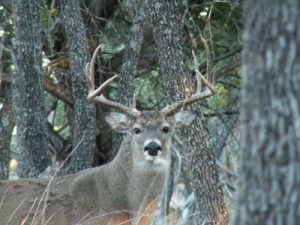 According to www.dictionary.com, cull means "to choose, select or pick".   In other words, deer culling is when a human decides which animal is being taken from the herd. By definition, deer culling is not much different from hunting.
Why use Deer Culling?
There are a few reasons why a deer herd would be culled:
Herd Reduction
Deer and vehicle collisions
Property damage
Disease Control
Herd Reduction
Herd reduction is often used within urban areas and forest preserves.   This type of deer culling normally involves sharp shooters.  The goal is to reduce the size of the herd to prevent things like starvation and incest.
Herd reduction does come with quite a hefty price tag.  The cost of these deer culls can run from around $340 per deer to $740 per deer.  The overall price of herd reduction culling can easily run into the hundreds of thousands of dollars.  (1)
Deer and vehicle collisions
Deer and vehicle collisions are a common occurrence in Illinois and result in vehicle damage and injury, including death, to some drivers. Due to the relationship between deer populations and vehicle/deer accidents, the State of Illinois works with insurance companies when determining the states deer herd objectives.  While it is controversial, deer culling has been shown to lowered the number of deer and vehicle collisions.
Property Damage
Property damage is a serious issue to Illinois farmers and homeowners. A whitetail deer can consume an average 7 pounds of food per day which equates to 2,555 pounds per year. This can be devastating to a farmer's revenue earned from his crops.
Residential damage occurs also. Valuable trees and plants can be damaged when a whitetail has turn to them for a food source after their natural habitat has been eaten.(2)
Agricultural damage
There are a three ways in which deer are culled from these properties.
The issuing of nuisance tags to the property owner giving them the ability to cull the deer
Allowing hunters access to the property
Using sharpshooters provided by the state
Urban Damage
With urban/residential damage, sharpshooters are normally used. Only in rare instances, urban hunting zones are established.
Disease Control
This type of deer culling is used in areas where disease is threatening the herd.  Control methods in this situation depends on the state.  Sharpshooters and traditional hunting methods are often used together to gather information on the disease. After the information is gathered, further action is decided upon.
Deer culling and the future of the Illinois deer herd
Deer culling is an important issue and seems to be a controlling factor with the number of deer in Illinois. We have talked to many people on the subject ranging from hunters to employees of the Illinois DNR. In the near future we will be publishing articles containing interviews that give different angles and viewpoints on the subject of deer culling in Illinois.
The coming sections will include an interview with Jeff O'hare who runs the Facebook page "Stop the Illinois DNR so the Herd Can Grow". This posts will offer very interesting insight on CWD and what is happening here in Illinois from the perspective of some Illinois hunters.
The final section will be an interview of Doug Dufford, Wildlife Disease and Invasive Species Program Manager for the IDNR. These different perspectives on the CWD and deer culling will allow for greater insight to this area!!
References